Hello lovelies!
Today, I've decided to give you a glimpse of my own beauty habits. As winter is already here, I'll share the beauty tips I've implemented during this harsh and cold season. Thus, you'll see that I don't just talk the talk. Actually, I also walk the walk as far as beauty is concerned!
As a black woman, I have to tackle specific issues such as not having an ashy complexion, or getting extremely dry skin during winter. That's why I've set up strategies to help me going through this season beautifully and gracefully.
Are you ready to discover my winter beauty routine? Then, continue to read below!
Disclaimer: This post contains affiliate links. I may earn a commission whenever you click on the links and purchase the products, with no additional cost to you.
Eating the right foods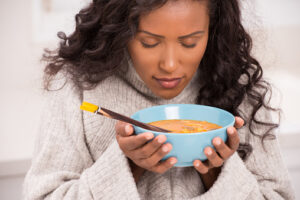 Being cold during winter is also the opportunity for me to eat heavier foods. Please note that I've said heavier foods, not fatty foods. I don't want to gain unnecessary weight! Therefore, I'll be able to face the cold and snow, while getting warmer inside.
Here are some foods that I favor during winter:
meat
soups and stews
bone broth
applesauce and other stewed fruits
cooked vegetables, with some raw vegetables occasionally
legumes (lentils and beans essentially)
I'm not vegetarian/vegan. So, if you want to adapt this list to your lifestyle, feel free to skip meat and bone broth from your diet. Find the right food replacements that will work for you.
Though I generally watch what I eat, it doesn't mean that I get on a scale everyday. It will only get me depressed whenever I gain three pounds. Therefore, if you want to spend a cheerful winter, keep your eyes out of that scale!
And enjoy your Christmas holidays with your family. Eat whatever you want during those days, unless you have some medical conditions. You fully deserve it!
Gentle cleansing
I have the weirdest skin type ever: combination skin. Indeed, my skin is generally dry on my cheeks, but my nose shines like a beacon in the dark. Consequently, I have to adopt gentle cleansers to avoid making my skin more sensitive.
A friend of mine recommended me to cleanse my skin with a balm, but strangely it didn't suit me. I had to go back to my usual cleansing gel: the Smoothing Cleanser by Sephora Collection.  It cleanses my skin thoroughly while being gentle at the same time: just what I need!
However, my gentle cleansing needs don't stop to my face. It also concerns my body as well. I tend to have a very dry body skin. When I don't properly moisturize my body, I do have the infamous "crocodile skin". That's why I also cleanse my skin with the Rogé Cavaillès Surgras Sensitive Skin Cotton Flower Bath and Shower Gel.
And of course, to avoid making my skin drier, I have one more secret. I make sure to take warm showers, not hot ones!
Staying hydrated at all costs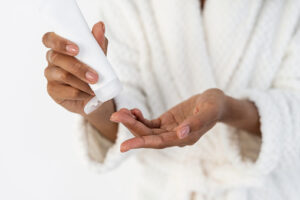 Winter is a season where we can become easily dehydrated because of the cold outside and the heating inside. And my skin reminds me of this everyday. As a consequence, I opt for heavier moisturizers. Thus, my skin is nourished and moisturized, while getting an additional layer of comfort.
This is much welcome to feel warmer during this cold season! My heavier moisturizer has been a staple in my family since my childhood in the late 1980s: Palmer's Cocoa Butter Formula. In addition, I keep my body hydrated inside by drinking lots of water and herbal teas.
For my face, I choose a heavier moisturizing formula with niacinamide, retinol, and several vitamins.
Niacinamide is a form of Vitamin B3 playing a tremendous role in cellular metabolism. Thus, it fights agains premature aging, as well as skin inflammation and irritations. As for retinol, it has anti-aging and mildly exfoliating properties. My best winter face cream is Palmer's Skin Success Anti-Dark Spots Fade Cream for all skin types.
And contrary to the name of the cream, it's not a beaching cream. Indeed, it has no effect on my skin color. And by the way, I absolutely abhor skin bleaching. But I'll handle this issue on a future article.
Chasing softer lips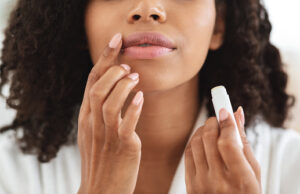 During winter, I get chapped lips as a result of my dry skin. Therefore, I opt for a nutritive and repairing lip balm. I especially like the Nuxe Lip Balm Reve de Miel because it's enriched with honey, which is one of the most potent natural moisturizers. And it's an organic product 100% made in France! Also, I like Burt's Bees Lip Balm.
In case I don't have a lip balm at hand, I use the good old shea butter or Vaseline. They have the same moisturizing effects on my lips, though I use less Vaseline these days.
In addition, I also exfoliate my lips from time to time with a mixture of brown sugar and honey. It always gives me soft and kissable lips at once. No more chapped lips for me!
Taking extra care of my hands
Did you know that your age show on your hands first? Consequently, you shouldn't forget them in your beauty routine!
Unfortunately, hands are often neglected and exposed to the cold and other harsh climatic effects. That's why I invite you to go the other way around. Personally, I bought a heavier hand cream to moisturize my hands while facing the cold. I've chosen Palmer's Cocoa Butter Formula Hand Cream.
This heavy hand cream has a moisturizing and nutritive formula that suits me especially during harsh winters. I use it after washing my hands and every time I need. To complete my hand care, I wear gloves before I go out.
Never forget to exercise!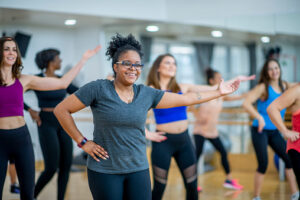 Though it's cold outside, it doesn't mean that I should be a couch potato! I strive to walk everyday and I cover myself properly. Also, I try to exercise indoors with HIIT, Pilates, and Yoga, especially when the cold is insufferable for me.
Don't hold on self-care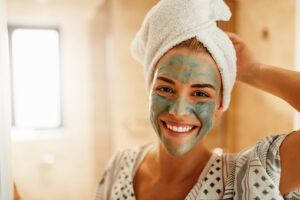 I am a huge fan of self-care. Indeed, I believe that taking care of myself  first will enable me to take care of others. Therefore, I indulge in a weekly homemade spa during the weekends. Exfoliation, manicure, pedicure…I don't neglect anything! Also, If I have time during the week, I visit a hammam to get rid of the toxins I have accumulated during the week or the month.
In addition, I enjoy getting a massage here and there because it has soothing and relaxing effects on my mind, body, and soul. I especially like Thai massages. I remember that I've adopted Thai massages when I experienced ithem during a trip in Thailand in 2015. I've immediately noticed a relaxing effect, as if I was floating in the air. And since then, I've never doubted the power of massages!
And don't forget the hair!
My natural afro hair really suffers during the winter season. Indeed, my hair is very dry and tends to be brittle if it doesn't receive the appropriate care and nourishment.
As a result, I give it an extra TLC to keep it soft and bouncy. I've adopted several winter hair care for dry hair, including:
shampooing less often (only once a week)
getting deep conditioners: my deep conditioner is made of a hair mask, olive oil, coconut or palm kernel oil, and peppermint essential oil. Sometimes, I add an egg if I feel that my hair is extra dry
washing my hair with warm water
getting pre-poos every week with heavier butter and oils, such as shea butter and castor oil
going out with bonnets and scarves
wearing more protective styles: braids, buns, or bantu knots
I recommend you adopt these habits if you have dry hair or if you just want to go the extra mile with your hair during winter!
Summary: what's in my winter beauty routine?
My winter beauty routine is not exceptional. However, it contains key beauty habits that will help you to gracefully face this harsh season. Here are the summary of my winter beauty tips:
eating heavier healthy foods
adopt gentle cleansing
staying hydrated everyday
fighting chapped lips
taking care of your hands
exercising everyday
getting some self-care
giving extra TLC for your hair
If you follow these winter beauty tips, I guarantee that it will life-changing for you and your own beauty routine. Don't hesitate to try these tips by yourself and watch the results!
That's all for today! What do you think about my winter beauty routine? Do you have other winter skincare or haircare tips that you follow? Share your answers in the comments below!
Take care!
Click here to receive my free ebook on the 9 time-tested secrets to eternal youth.