Hello lovelies!
Among all the cosmetics brands in the United States, Revlon is one of a kind.
Founded in the 1930s, Revlon started as an innovative and creative brand that took the beauty market by storm. More, it even became a household name with its memorable and inclusive marketing campaigns.
Alas, in June 2022, Revlon announced that it filed for bankruptcy after almost 90 years of existence. What happened to Revlon and why did the brand experience such a blow? Today, this article analyzes the causes of the rise and fall of Revlon.
The birth an American cosmetics titan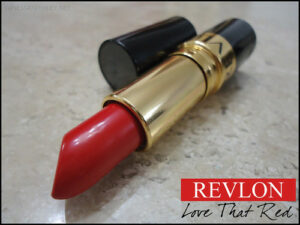 In 1932, brothers Charles and Joseph Revson teamed up with the chemist Charles Lachman and launched the company Revlon. The name of their new company was a moniker made of the name of the brothers with the "L' of the chemist's name in the middle of the brothers' name.
The very first product of the company was an innovative one. Indeed, they launched a new style of nail polish which contained pigments instead of dyes.
Once they launched their product, it became an instant success and a massive hit. Soon, they developed several shades of nail polish and sold them in department stores. By the end of 1937, Revlon became a multi-million company, despite the financial turmoils of the Great Depression.
In the 1940s, Revlon's founders decided to expand the brand. Consequently, they launched their first lipstick collection which was a massive hit. Do you remember the trend of matching lips and fingernails? Well, Revlon launched that trend in the mainstream market with its Lips and Fingertips marketing campaign. This helped Revlon to capitalize on the success of its nail polish.
Also, Revlon had an entire manicure line which helped it to become the second cosmetics brand in the United States, just behind Besame Cosmetics.
Starting in the 1950s, the brand started selling their products internationally. Revlon's main foreign markets were Japan, France, Argentina, Italy, and Mexico.
Expansion, celebrities, and good marketing: the trinity behind Revlon's success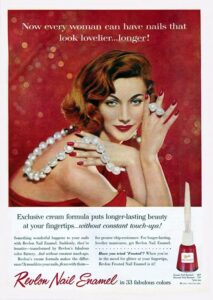 Over the years, Revlon continued to grow and acquired many companies in the beauty industry and beyond. Indeed, it ventured into other products, such as:
shampoos and conditioners
deodorant
fragrances
drugs
optical equipment and supplies
contact solution manufacturing
Those acquisitions and new launches helped Revlon to strengthen its position as a leader in the US beauty market. For instance, when Revlon launched the fragrance Charlie in 1973, it became another massive hit worldwide. Indeed, Revlon's sales increased by nearly 20%, from $506 million to $606 million the next year.
Another expansion strategy of Revlon involved massive marketing campaigns relying on celebrities' endorsements. Indeed, celebrities such as Elizabeth Taylor and Audrey Hepburn publicly endorsed the brand. This gave the opportunity to Revlon to rely on celebrities spokespersons throughout the years.
The celebrities Revlon chose always had something in common. As a matter of fact, they would always represent the ideal American girl next door. In my opinion, their best celebrity spokesperson was Cindy Crawford in the 1980s and the 1990s. She was so beautiful in those advertising campaigns!
Besides Cindy Crawford, Revlon had many celebrities as spokespeople, such as:
Lauren Hutton
Kate Bosworth
Claudia Schiffer
Melanie Griffith
Julianne Moore
Jennifer Connelly
Emma Stone
An inclusive brand
Also, Revlon was innovative in its approach to inclusivity. Indeed, it was the first drugstore beauty brand to create an entire makeup line dedicated to women of color. Even more, Revlon made history when the brand hired its first black spokesperson to promote their products in the 1970s.
Her name was Naomi Sims and she was one of the first Black supermodels at that period. Soon, other women of color followed, such as Iman, Eva Mendes, and Halle Berry.
Revlon became such a staple beauty brand that it even helped preparing models for the runway. For many years, Revlon has been one of the brands chosen exclusively for the New York Fashion Week.
In the 1980s, Pantry Pride, a subsidiary of MacAndrews and Forbes, bought Revlon Cosmetics for $58 per share. Then, the brand entered the stock market in 1996 and continued to be successful until the 2000s.
Charity work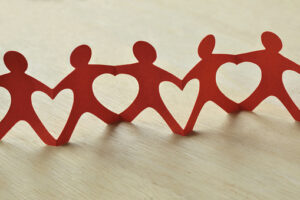 Revlon was behind many charitable endeavors. For instance, the company organized an annual EIF Revlon Run/Walk for Women to raise awareness on breast and ovarian cancer. Many celebrities participated to this event, such as Halle Berry and Oprah Winfrey.
Revlon also organized many charitable galas and concerts, such as the Revlon Concert for the Rainforest Fund in 2012.
Scandals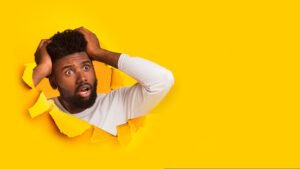 Throughout its massive success, Revlon also shared its fair share of scandals. For instance, in 1989, the brand announced that it would stop testing their products on animals. Unfortunately, in 2011, PETA uncovered that this was remotely true.
Instead, the company paid Chinese laboratories to test its cosmetics on animals. Did they really believe that they wouldn't be responsible if they just shifted this in another country?
In my opinion, the worst is still to come. Indeed, since 2021, Revlon's healthcare division has been accused of importing HIV-infected blood products in the UK. The case is currently ongoing in Canada.
The beginning of the end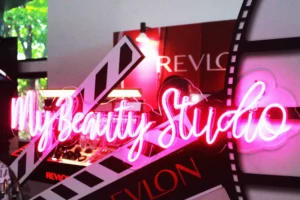 In the 1990s, Revlon already faced harsh competition from brands such as CoverGirl and Ester Lauder. But this was still within the frame of the traditional beauty industry. So, Revlon fought back.
The beauty brand attempted to improve its sales by buying Elizabeth Arden and nail care brand Cutex in 2016. Sadly, it wasn't enough.
Indeed, Revlon's sales plummeted by 20% between 2020 and 2021. And the beauty brand didn't recover from the effects of the pandemic. Several factors can explain the downfall of Revlon.
Factor #1: Celebrities' brands
Revlon couldn't keep up with the disruptions created by celebrities' brands in the beauty industry. Indeed, brands such as Kylie Cosmetics, Glossier, Hula Beauty, or Fenty Beauty took over the market through their massive social media following. Also, they created product ranges that were more inclusive and innovative.
On the other hand, Revlon didn't leverage the power of social media to increase sales at the beginning. But the brand finally invested in e-commerce and its sales increased by 20% at that stage. Also, Revlon launched new products blending skincare and makeup. But this wasn't enough.
Factor #2: Supply chain issues
During the COVID-19 pandemic, Revlon faced supply chain shortages like many other beauty companies. Indeed, the price of raw materials skyrocketed and Revlon had a hard time managing these issues. Also, the Russia-Ukraine war contributed to the rise of prices, and it is still current.
Factor #3: Failure to innovate
Once an innovative cosmetic brand, Revlon became merely content to rest on its laurels. Indeed, Revlon had always sticked to its traditional colors, including shocking red. For a very long time, the beauty brand relied on the "if it's not broken, don't fix it" philosophy. And though it worked at the beginning, it finally hit hard on Revlon.
Factor #4: Massive debt
Currently, Revlon is facing a massive $3.2 billion debt, while having assets estimated between $1 and $10 billion. The purchase of Elizabeth Arden and Cutex amplified Revlon's debt as well.
Also, after the pandemic, creditors were less understanding toward Revlon. Therefore, Revlon filed for Chapter 11 bankruptcy. The company is currently restructuring its debt.
Summary: what happened to Revlon?
At its inception in the 1930s, people hailed Revlon as an innovative beauty brand. The brand managed to thrive during several decades thanks to its striking marketing campaigns and innovative initiatives. Unfortunately, Revlon struggled to address several issues, which ultimately led to its downfall. Hopefully, the beauty brand will solve these issues and rise again like a phenix!
That's all for today! What do you think of Revlon's rise and fall? What is your favorite Revlon's product? Share your opinion in the comments!
Take care!
Click here to receive my free ebook on the 9 time-tested secrets to eternal youth.