Hello lovelies!
I don't know if you've noticed, but Apple TV has launched a new documentary called Supermodels. To celebrate this new documentary, I've decided to launch a new series on my own on this blog.
Indeed, I will examine all the beauty secrets of the supermodels in this series: Cindy, Naomi, Linda, and Christy. If you're a child of the 90s like me, you know those first names. If you're born after the 90s, you will discover how much those women were at the top of the world.
Today, I'll start with Cindy Crawford. If there was a real supermodel in the 90s, that was her! She was nicknamed "Baby Gia" during her first steps as a model, in reference to Gia Carangi. However, she quickly became a household name on her own and became the face of several brands. Revlon, Pepsi, and Omega are among the global brands she proudly represented.
Nevertheless, though she is a natural beauty, Cindy Crawford works hard to maintain her physique. Here are Cindy Crawford's beauty secrets we all need to know!
Disclaimer: This post contains affiliate links. I may earn a commission whenever you click on the links and purchase the products, with no additional cost to you.
Cindy Crawford's skincare regimen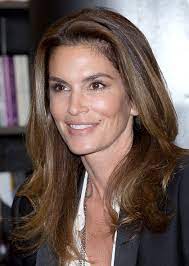 "The face you have at 25 is the face God gave you, but the face you have after 50 is the face you earned" – Cindy Crawford
Cindy Crawford's beauty regimen revolves around her own beauty line: Meaningful Beauty. Indeed, she's been using her own products developed in collaboration with her dermatologist since her 30s. You will find her skincare routine in this video.
Actually, she uses a cleanser, serum, and moisturizer of her own brand. Also, using sunscreen is non negotiable for her. She is very careful and must protect her skin because she lives in sunny environments such as Los Angeles and Miami. Moreover, she undergoes dermabrasion from her favorite beautician once a month.
For her body care, she enjoys dry brushing daily. Through this practice, she exfoliates dead skin cells and stimulates her lymphatic system. Moreover, dry brushing is useful to reduce cellulite and invigorate her body. Afterwards, she takes her shower and moisturizes her body with Neutrogena Body Oil.
However, what I really like in Cindy Crawford's skincare regimen is that she insists on consistency. Thus, you don't need to use super expensive products like her. But if you are consistent in your routine, your good skincare habits will eventually pay off!
Cindy Crawford's diet
Cindy Crawford has a very healthy diet. Indeed, she eats lots of vegetables and first-class protein such as chicken and salmon. Her go-to breakfast? A smoothie full of vitamins: spinach, almond milk, 1/2 banana, protein powder, raw cocoa, and fresh mint.
However, she has the occasional treat and doesn't hesitate to eat some dark chocolate. She strives to eat correctly 80% of the time and to have the occasional cheat meals 20% of the time.
I believe this is a very balanced approach. Life is short and it's a shame not to enjoy it!
Cindy Crawford's exercise routine
Cindy Crawford is a fitness fanatic. Indeed, during her modeling days, she used to train 5 times a week to keep her body fit. She even launched a series of fitness DVDs such as Shape Your Body! Ahh, the 90s fitness products…
Nowadays, she always has a dedicated fitness routine. For instance, she trains three times a week with a coach. In particular, she is fond of cardio, squats, hiking, and yoga.
If you are a 90s nostalgic, try to train with her DVDs such Shape Your Body or the Next Challenge Workout. You will sweat and push your body to the limits. But I must warn you that you must have an excellent physical condition to follow her workout!
Cindy Crawford's make-up routine
"Even I don't wake up looking like Cindy Crawford" – Cindy Crawford
As a model, Cindy Crawford used to get dramatic makeup transformations, according to the job. However, she keeps her makeup very simple these days.
She puts Ilia Super Serum Skin Tint SPF40 Foundation. Then, she applies her favorite bronzer: Charlotte Tilbury's Airbrush Matte Bronzer. And she follows by Heroine Make's Long and Curl Mascara Super Waterproof. Eventually, she finishes with La Mer's Lip Balm.
Cindy Crawford's makeup is a perfect example of what to wear daily. You don't have to wear heavy makeup, as your skin needs to breathe. Also, makeup must enhance your beautiful features first, not hide your defects.
Cindy Crawford's hair care
Besides her mole, Cindy Crawford's bouncy and full locks are one of her beauty trademarks. Nevertheless, she didn't care much about her hair in her 20s. For example, she would wear a scrunchie on wet hair.
Lately, Cindy Crawford extended her beauty line to hair care. Thus, she would fight hair's first signs of aging. They include thinning, breakage, and dullness. That's why she doesn't need lots of products, but she focuses on treating her hair and scalp.
Therefore, she uses shampoo, conditioner, and a leave-in conditioner from Rene Furterer. But she also uses her own Meaningful Beauty Scalp Treatment on her scalp. Indeed, this product promotes hair growth through a healthy scalp. Also, Cindy Crawford made sure that the serum wouldn't be greasy. Actually, it even add a little volume to your hair by stimulating hair roots!
Cindy Crawford's wellness habits
Cindy Crawford believes that wellness is a great complement to external beauty. Therefore, she often indulges in meditation sessions. Also, she visits infra-red sauna once a week. Her favorite wellness hack? Reading a book while having a 30-minute infra-red sauna session! Good luck with that!
Cindy Crawford's perfume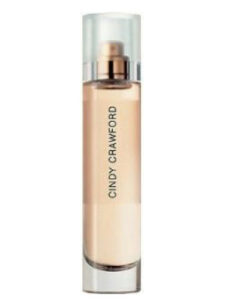 Cindy Crawford launched her own perfume in the market in 2002. It is a very sensual perfume with mainly floral notes:
Head notes: pepper, black currant, freesia, and cyclamen
Middle notes: gardenia, magnolia, mimosa, and jasmine
Bottom notes: vanilla, cedar wood, and musk
Following all these ingredients, I can conclude that this perfume is very sensual and feminine. Just like Cindy Crawford! Have you ever tried this perfume? Don't hesitate to share your opinion in the comments below!
Want a beauty routine inspired by Cindy Crawford?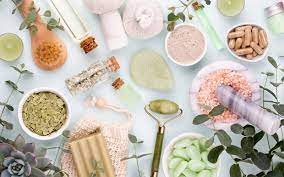 If you want a beauty routine inspired by Cindy Crawford, here are the products she uses:
Moreover, if you want to get a glimpse of Cindy Crawford's fitness routine during her modeling days, here is the DVD:
Shape Your Body Workout
Summary: what we can learn from Cindy Crawford's beauty secrets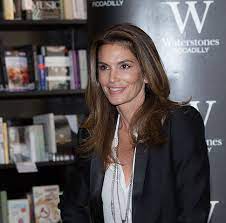 "I don't try to be perfect at everything" – Cindy Crawford
Cindy Crawford's beauty secrets are a combination of good products, regular habits, and consistency. What I like about this beauty regimen is that you can replicate it very easily, even if you don't have her budget.
For instance, you don't need a fitness coach to stay fit. Have a brisk walk, or get your favorite fitness app to start exercising. If you are consistent in your beauty routine, I can guarantee that you will have excellent results, even if you don't have her budget. However, if you want to look like her, it's impossible. I can't help you there! She's definitely a unique beauty!
Well, that's it for today! What do you think of Cindy Crawford's beauty secrets? Have you implemented some of her habits in your daily routine? Feel free to share in the comments!
Take care!
Want more content from me? Subscribe here and receive your free report about the 9 time-tested secrets to eternal youth.