Hello lovelies!
Today, I'm finishing this Supermodels retrospective with Linda Evangelista. Indeed, she has been called the most beautiful supermodel in the 90s. In particular, she was a real chameleon who changed hair color, and still look good! And she was so famous that she even said that she wouldn't wake up for less than $10,000 a day.
But since then, Linda Evangelista has evolved. Currently, she's a mother and a creative director for Erasa Skincare. And she remains as beautiful as in the 1990s! It seems that time has no hold on her. But how does she do it?
Let's dive into Linda Evangelista's beauty secrets!
Linda Evangelista's skincare routine
Before her thirties, Linda Evangelista didn't really pay attention to her skincare routine. However, since her 30s, she has been consistent in applying sunscreen, especially La Roche-Posay products.
Also, she cleanses her skin everyday with an Aveeno cleanser before applying an anti-wrinkle solution called Erasa XEP-30 Rejuvenation Serum. Then, she applies a moisturizer.
In particular, she credits Erarsa XEP-30 with reducing her melasma. Melasma is a skin pigmentation disorder that appears during the pregnancy. Once her aesthetician introduced this product to her, she tried it. After being convinced by the effectiveness of this product, she researched the company. And she eventually became their Creative Director!
However, Linda Evangelista wasn't always a minimalist. Indeed, she used to be a product junkie diva. She would collect lots of beauty products, especially during her modeling days. That reminds me of myself…
Linda Evangelista and plastic surgery
"Am I against Botox? No! It's good" – Linda Evangelista
Linda Evangelista is not against plastic surgery as such. She even regretted that Botox wasn't mainstream in the 1990s. However, she always tries to do it in such a way that she looks natural. And it looks good on her!
However, Linda Evangelista also knew some mishaps with plastic surgery, or invasive procedures as you call it nowadays. Indeed, she ruined her face when she underwent CoolSculpting sessions. This practice consists in destroying fat cells of the face and body with cold.
Nevertheless, the sessions didn't go well with her and she experienced rare side effects. In particular, she had one called adipose  hyperplasia on her face. Thus, she was disfigured and couldn't fix her face with proper diet or exercise.
Therefore, she decided to warn people about the potential side effects of these types of procedures. Personally, I think she's quite honest with her relationship to plastic surgery. And I think it's quite refreshing…
Linda Evangelista's diet
She has a balanced diet. Also, she doesn't follow a specific diet. But she enjoys eating healthy foods. For instance, she eats lots of vegetables, flax seeds, coconut oil, and avocados. However, she doesn't deprive herself because it only brings frustration in the long run. If there's pizza, she will eat it and move on.
Linda Evangelista's exercise routine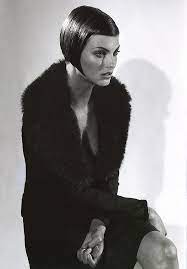 Linda Evangelista works out five to six times a week with her private fitness coach. However, she also enjoys outdoor activities. Thus, she goes skiing in winter and hikes in summer.
Linda Evangelista's make-up routine
During her modeling days, Linda Evangelista used to wear make-up as to meet the clients' desires. However, in her daily life, Linda Evangelista is a minimalist. She uses a primer, a foundation, blush, and a gloss from Dolce & Gabbana. And also, she doesn't wear mascara all the time.
Moreover, she enjoys doing her own nails, because she finds this activity very therapeutic. However, if she wants to be pampered, she goes to a manicurist in her neighborhood.
Finally, Linda Evangelista has a tip: always put make-up next to a window! Thus, you will have the perfect light and no bad surprises once you're out!
Linda Evangelista's hair care
Linda Evangelista has experimented every types of hair colors and cuts. Red, blonde, brown, pixie cut, bobs, long curls…Linda Evangelista has tried them all! But in real life, Linda Evangelista has curly hair that she pressed regularly.
She has used many professional brands such as Kerastase. Nowadays, she cares for her hair with R+Co products.
Linda Evangelista's perfume
Linda Evangelista changes perfume all the time. However, she particularly loves Fleurs d'Oranger by Serge Lutens and Opium by Yves Saint Laurent. Generally, she likes fragrances that contain white flowers, gardenia, or jasmine.
Inside Linda Evangelista's vanity case
Do you want to emulate Linda Evangelista's beauty secrets? Then, find her favorite products below:
Summary: what we can learn from Linda Evangelista's beauty secrets
Honestly, I believe that Linda Evangelista's beauty secrets are honest and refreshing. And that's a great quality to have, especially in a world where everybody is hypocritical. But I also learnt that less is more. Just take care of what you have and let your personality do the rest!
Moreover, I believe that she owns her beauty mistakes and that's very cute to me. She did a beauty mistake? well, so be it! But she will warn people about the dangers and potential side effects of this practice. And that's very sweet!
Well, my Supermodels is finished…for now! What do you think of Linda Evangelista's beauty secrets? Share your point of view in the comments below!
And don't forget to watch the documentary Supermodels on Apple TV!
Take care!
Want more content from me? Subscribe here and receive your free report about the 9 time-tested secrets to eternal youth.