Hello lovelies!
Today, I continue with my Supermodels series, after the launch of the documentary on Apple TV. After Cindy and Naomi, we will examine Christy Turlington's beauty secrets today.
Indeed, Christy Turlington is one of the most famous models of the 90s. She has been the face of many brands, such as Calvin Klein, Maybelline, and Noble Panacea. Also, her success is due to her timeless and understated elegance.
If you don't know her, get to discover Christy Turlington's beauty secrets in this article!
Disclaimer: This post contains affiliate links. I may earn a commission whenever you click on the links and purchase the products, with no additional cost to you.
Christy Turlington's skincare routine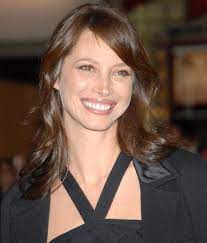 "I love getting facials and massages" – Christy Turlington
As a model, Christy Turlington has learnt to take care of her skin. Though she didn't think of anti-aging practices at 18, she increasingly became aware of them. Therefore, she strives to have a regular skincare routine. It is even a part of her global self-care routine.
First, she starts her morning routine by cleansing her face with a cleansing balm. Then, she moisturizes with a creamy moisturizer to replenish her skin. Currently, she uses Noble Panacea's products, as she represents this brand.
In the evening, she basically follows the same routine. However, she adds a vitamin C serum to repair her skin during the night. Moreover, she is fond of facials and visits her beautician regularly.
Contrary to most of her colleagues, she's not afraid of exposing herself under the sun. However, she's not unconscious and will use a sunscreen when she gets out.
Christy Turlington and plastic surgery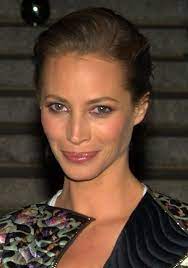 In addition, Christy Turlington believes in aging gracefully. She doesn't like plastic surgery and believes that it doesn't look good. She's not afraid to age and she'd rather embrace it fully.
I believe that she has a healthy approach to aging. And she reminds me of my mother. Indeed, my mother always told me that women aged like fine wine when they took good care of themselves in their youth. So, it seems that Christy Turlington and my mom have the same opinion!
Christy Turlington's diet
"I believe in moderation and I don't deprive myself of anything I crave or enjoy" – Christy Turlington
Christy Turlington has a healthy approach towards her diet. Indeed, she doesn't follow any particular program and just eats everything in moderation.
For instance, she will eat regularly the following foods:
lentils
avocado
arugula
sweet potatoes
chicken breasts
As you can see, she only eats healthy and clean foods! If you follow this path all along your life, I don't think you'll ever need to diet a single day in your life.
Christy Turlington's exercise routine
"I don't think of yoga as a workout, but it does keep me in shape" – Christy Turlington
Christy Turlington is a high-level yogi practitioner. Indeed, she discovered this spiritual and physical discipline at 18 with her then-boyfriend. Since then, she has been consistent in practicing yoga every day. She has tried every types of yoga, but she decided to stick to hatha yoga.
Besides yoga, Christy Turlington enjoys outdoors activities. For instance, she runs and hikes. Occasionally, she practices Pilates as well.
Christy Turlington's make-up routine
Of course, as a model, Christy Turlington wears make-up upon her clients' requests. But every time I look at Christy Turlington, I personally think of old money aesthetics. Indeed, she seems to have adopted the "no make-up" look perfectly. And her skin always seems dewy, even in her 50s!
Actually, she only uses four products. Her make-up collection includes a concealer, a blush, a lip balm, and an eyebrow pencil. And that's all! Also, she entirely shuns mascara and only wears it for special occasions.
Do you want a very minimal makeup collection? Then, Christy Turlington should definitely be your inspiration! And the good news is that she mixes expensive brands with some that are more affordable like Maybelline.
In addition, there's one thing she never forgets. Indeed, she always take her make-up off before going to bed! And she tries to make the process enjoyable for her.
Christy Turlington's hair care
As a model, Christy Turlington used to color her hair when she was younger. However, she doesn't do it anymore. She'd rather have good hair care in a salon located near her house. Also, she enjoys organic shampoos and conditioners.
Christy Turlington's wellness habits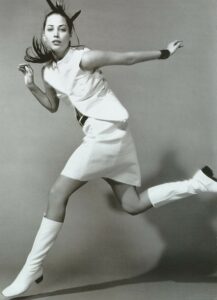 "There's nothing better than being able to sort of self-soothe in this world" – Christy Turlington
Besides yoga, Christy Turlington relies heavily on regular wellness routines to feel comfortable in her skin. Here are some wellness practices that she enjoys on a regular basis:
massage
hot baths with Epsom salts
meditation
Concerning meditation, Christy Turlington is a huge fan. She even meditates before bedtime, as it soothes her mood. And I confirm!
Moreover, she also takes time for herself spiritually. For instance, she practices gratitude and lives fully the present day. I believe that's a good approach because thinking of the future only stresses you. And stress is bad for your beauty, your health, and your well-being!
Christy Turlington's perfume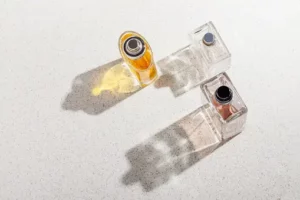 Christy Turlington has no regular perfume. Rather, she changes perfume regularly according to her mood. However, she is the current face of Eternity by Calvin Klein. And I'm not surprised that she was chosen by the brand. Indeed, she exudes this understated elegance that aligns with everything that Calvin Klein represents.
Inside Christy Turlington's vanity case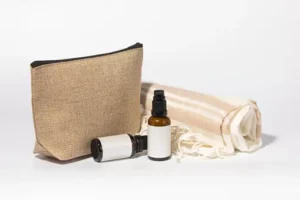 Do you want to emulate Christy Turlington's beauty secrets? Here are some of her favorite products:
Elemental Hydrating Preparation Essence by Noble Panacea
Summary: what we can learn from Christy Turlington's beauty secrets
"I will never alter or augment my face" – Christy Turlington
Christy Turlington's beauty secrets show us the importance of taking off oneself spiritually first. Then, if you feel good, you'll look good! Don't hesitate to have regular spiritual and wellness routines to fell good inside.
Also, I really enjoys the fact that she wants to age naturally while taking care of herself. Indeed, I do believe that plastic surgery is not always necessary. I'm not against it, but I wouldn't encourage it either. Contrary to what influencers and celebrities make you believe, plastic surgery is not trivial.
Actually, plastic surgery include medical risks. And you don't necessarily know what you put in your body. And when you see some disastrous results, it just doesn't look good. So, be careful and look after your skin and health in the first place. Now, if you really want to have plastic surgery, find a very good doctor.
Well, that's it for today! What do you think of Christy Turlington's beauty secrets? Have you implemented some of them in your daily routine? Feel free to share your answers in the comments below!
Take care!
Want more content from me? Subscribe here and receive your free report about the 9 time-tested secrets to eternal youth.