For me, Naomi Campbell is the G.O.A.T. of supermodels. Period.
And every time I look at her pictures, I can't believe that she's 53! Indeed, she's incredibly radiant, and has a body that could put a 20-year-old girl to shame.
Though Naomi Campbell has obviously been blessed by genetics, she also has some beauty hacks. Because you shouldn't think that she managed to keep this way by doing nothing. On the contrary, she works quite hard to keep that beautiful physique of hers.
But how does she maintain her beauty? In this article, we continue to pay a tribute to the documentary Supermodels, in which she participated. Let's discover Naomi Campbell's beauty secrets together!
Disclaimer: This post contains affiliate links. I may earn a commission whenever you click on the links and purchase the products, with no additional cost to you.
Naomi Campbell's skincare routine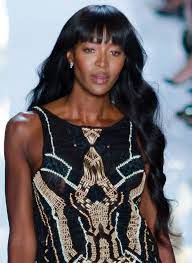 "I like my skin to look greasy and oily. I don't like skin to matte and dry, I think it ages you" – Naomi Campbell
Over the last 35 years, Naomi Campbell has worked with the best skincare professionals in the planet. Therefore, it's not surprising that she would know a couple of things herself!
Actually, despite being very discreet over her skincare routine, she has shared her 10-minute beauty routine on her YouTube channel. In particular, she is fond of many drugstore/pharmaceuticals products; and I was quite surprised!
According to Naomi Campbell, hydration is the most important step in one's beauty routine. She even credits her mother for teaching her to moisturize her face and body at all costs. But does she do it?
Naomi Campbell's exact routine
After cleansing her skin, Naomi Campbell puts two serums. First, she sprays her face with La Roche-Posay's Serozinc. Why? Because this product is famous for its anti-aging and skin cell repairing properties. And it's cheap (at least, here in France!).
The second serum is a mixture of her own including vitamin E oil, hyaluronic acid, and vitamin C powder! Then, she moisturizes her skin with rose oil.
Moreover, she is a fan of at-home micro-needling. This is a non-invasive cosmetic practice aiming at reducing acne scars. Also, it corrects skin imperfections, has anti-aging properties, and stimulates the production of collagen and elastin.
As a general rule, Naomi Campbell enjoys having a skin that appears a little bit oily. But not a dirty oily skin. Rather, she likes to have a radiant and dewy skin because it adds glow to her skin. Now, you know everything she does to keep her skin young at her age!
As for her body, Naomi Campbell is faithful to a body butter that is also a staple in my house. That's Palmer's Cocoa Butter! She generously moisturizes her body everyday; and scrubs her skin regularly.
Naomi Campbell's diet
"We travel and eat so many things that it is important to just drink juice two days a week, once a month or so, to cleanse yourself, rebalance, and clean the blood" – Naomi Campbell
For several years, Naomi Campbell has followed a high-protein diet. However, after reading Clean by Dr. Alejandro Junger, she radically changed her diet. And she became a vegetarian!
Nowadays, she follows a very clean and healthy diet composed of fruits, vegetables, dates, nuts, and seitan. In Jamaica, they would call this diet "Ital" because it doesn't include animal products. For the record, Naomi Campbell is a British woman of Jamaican and Chinese heritage.
Also, Naomi Campbell only drinks juice three times a week to cleanse her body. If you're surprised by this practice, you must know that it's not the first time that she uses detox in her diet.
Indeed, during an interview with Oprah Winfrey, she admitted that she had followed the Master Cleanse during 10 days. During this period, she only drank water infused with lemon juice, maple syrup, and cayenne pepper. And she tries to do this three times a year. Good luck to you if you want to follow her steps!
Bonus #1: Naomi Campbell's favorite smoothie
On her YouTube channel, Naomi Campbell shared some of her diet tips as well. Here is the recipe of her favorite smoothie. All you need is to blend:
1 cup of plant milk
a tablespoon of raw cocoa powder
1 tablespoon of powdered matcha
a tablespoon of baobab powder
1 tablespoon of collagen powder
a tablespoon of artichoke powder
1 tablespoon of moringa powder
a tablespoon of plant protein
1 tablespoon of liquid vitamin C
2 tablespoons of pomegranate
1/2 banana
Ice cubes
Enjoy!
Bonus #2: Naomi Campbell's favorite detox drinks
"I never drink coffee; I don't like the smell. I'm a tea drinker" – Naomi Campbell
To keep her body clean and healthy, Naomi Campbell heavily relies on detox drinks. Besides her green juice fasts, she daily drinks:
warm water, lemon juice, and probiotics to strengthen her immune system
aloe vera juice
chamomile
green tea
Smart Water (it contains electrolytes to favor fast rehydration)
Naomi Campbell's exercise routine
Naomi Campbell's measurements are 34-24-34. But she doesn't keep these dreamlike body by being a couch potato! So, if you want to emulate her exercise routine, you'd better be athletic.
Indeed, Naomi Campbell starts her day with a session of yoga or Pilates. She explained that she need these two disciplines. Pilates realigns her body, while yoga is a more spiritual practice that takes care of her mind, body, and soul.
However, Naomi Campbell also enjoys more intense training. For instance, she enjoys kick-boxing, strength training, boxing, and capoeira. Also, she trains with a fitness coach three times a week.
If you want to follow Naomi Campbell's workout, she regularly posts pictures of her training on her Instagram profile. And she adds the hashtag #Noexcuse!
Naomi Campbell's make-up routine
"A lot of times it would be upsetting to sit in the chair of a makeup artist and come out a different color. Like, what's up? I'm a black woman and I want to look black, and you've made me look gray!" – Naomi Campbell
Currently, Naomi Campbell is the face of two makeup brands: Pat McGrath Labs and Nars. But during her modeling days, she worked with many make-up artists who didn't know how to properly apply make-up on black women. Honestly, it's a shame and revolting. Therefore, she had to learn how to do her own make-up.
She does use make-up products from the two brands she represents. Also, she enjoys experimenting with her make-up and plays a lot with make-up. However, she never, ever sleeps with make-up on. She systematically remove all her make-up before going to sleep, even if she's really tired!
Also, Naomi Campbell never wears make-up when she doesn't work. Well, I think this is sane because it allows her skin to breathe.
Naomi Campbell's hair care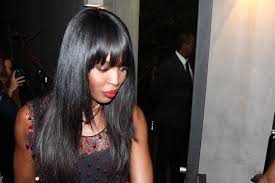 "Everybody in the world wears wigs. It doesn't matter any more. I do what I want [with my hair], or whatever the job calls for" – Naomi Campbell
At the beginning of her career, Naomi Campbell worked with her own hair. And she had a full head of hair! However, she heavily relied on hair extensions and wigs to achieve the different looks to adapt to the clients' desires.
So, her long, flown hair that is part of her signature look is not hers! It's either extensions or a wig! However, years of extensions have damaged her hair and she ended with traction alopecia.
Since then, Naomi Campbell's hair has grown back; and she pledged to take care of her hair more often. But she still relies on wigs because they're versatile. And you don't have to spend lots of hours to get ready.
All is well that ends well!
Naomi Campbell's wellness habits
Did you know that Naomi Campbell was a fan of massages? Indeed, she swears by lymphatic drainage to fight against cellulite and water retention. But if you don't have Naomi Campbell's budget, don't worry! You can fall back on Thai, Ayurvedic, or Swedish massages. And the effects on your body and morale will be similar!
Naomi Campbell's perfume
What Naomi Campbell wears is quite unclear. However, she has launched many perfumes on the market, including Naomi Campbell by Naomi Campbell, Naomagic, Private, and Queen of Gold.
Inside Naomi Campbell's vanity case
Do you want to emulate Naomi Campbell's beauty secrets? Then, here are the few products you need in your vanity case:
Serozinc by La Roche Posay
Also, read Clean by Dr. Alejandro Junger
And don't hesitate to subscribe to Naomi Campbell's YouTube channel to follow her beauty and wellness tips!
Summary: what we can learn from Naomi Campbell's beauty secrets
"I don't think I was born beautiful. I just think I was born me" – Naomi Campbell
Wow, investigating Naomi Campbell's beauty secrets was a huge journey in itself! But I really enjoyed the ride and I hope you did too! What I like about Naomi Campbell is that she uses cheap products and make her own mixtures as well. Moreover, she doesn't hide the fact that looking like her takes commitment and dedication.
But if you don't have her budget, here are some tips you can follow:
have a regular beauty routine and stick to it,
get a regular exercise routine,
eat a clean diet, even if you're not vegan and/or you don't have all the supplements she consumes
have regular massages
experiment with your make-up
Moreover, Naomi Campbell inspired me to be more gentle with my hair, as a black woman. Indeed, we rely a lot on protective styles like braids, extensions, or wigs to avoid manipulating our hair on a daily basis. But this doesn't mean that you should forget your hair underneath the protective styles.
Therefore, don't hesitate to take care of your hair, even if you have those styles on your head. And let your hair out from time to time to let it breathe!
Well, that's it for today! What do you think about Naomi Campbell's beauty secrets? Have you implemented some of them in your routine? Feel free to share your thoughts in the comments below!
Take care!
Want more content from me? Subscribe here and receive your free report about the 9 time-tested secrets to eternal youth.