Hello lovelies!
Yesterday, we studied the beauty secrets of Poppaea, a Roman empress famous for her incredible beauty.
And today, we'll remain in Italy…except that we'll examine the beauty secrets of another Italian beauty queen in our modern times.
Indeed, Monica Bellucci is just a goddess on the silver screen. Whatever she's casual, on the screen or on the red carpet, she exudes extreme femininity and glamour. Moreover, she seems to age like fine wine. Did you know that she's 59?!
Well, this beautiful actress has her own secrets that I'll share with you today. Let's discover Monica Bellucci's beauty secrets together!
Disclaimer: This post contains affiliate links to help me support this blog. I may earn a commission whenever you click on the links and purchase the products, with no additional cost to you. Thanks in advance for your support!
Monica Bellucci's skincare routine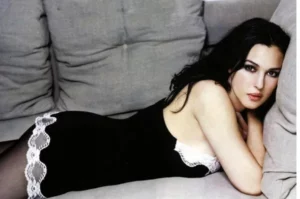 The Italian actress favors the balance between body and spirit. Thus, she starts her day with a cold shower. Afterwards, she applies a body lotion on her body. Currently, she's in love with Dr. Hauschka's Body Lotion.
For her face, Monica Bellucci remains very minimalist as well. Indeed, she cleanses her skin with a cleansing milk. Then, she follows her skincare routine with a gentle tonic lotion and a moisturizing face cream by Nivea.
Also, she favors light textures, so that her skin will be allowed to breathe. To take out her makeup in the evening, Monica Bellucci relies on Shu Uemura's Cleansing Oil. And that's it for her!
As you have seen, you don't have to follow complicated beauty routines to be on top. And Monica Bellucci is the living proof of that!
Her views on plastic surgery
"What's natural is beautiful, and when you're not you anymore, you become a caricature" – Monica Bellucci
Monica Bellucci is not against plastic surgery. However, she says that you shouldn't become a caricature. I haven't seen that she has undergone such procedures. Indeed, she'd rather age gracefully, and follows her mother's teachings about beauty and style. I really like her approach!
Monica Bellucci's diet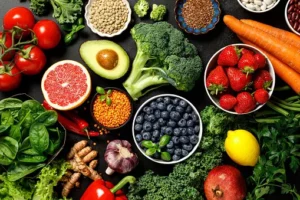 "When I eat with my friends, it is a moment of real pleasure, when I really enjoy my life" – Monica Bellucci
Monica Bellucci is a true Italian who enjoys good food! Indeed, she doesn't deprive herself and eats everything in moderation. In particular, she enjoys pasta, cheese, wine…However, she pays attention to the quality of her food. Thus, she will always choose organic food to avoid pesticides.
Nevertheless, when she's on set, she pays more attention to what she eats. There, she will follow a high-protein diet composed of fish, lean meats, sautéed vegetables…She will remove carbs, sugar, gluten, and everything she likes from her diet for a while.
And what I also like is that she doesn't pressure herself to please others. Monica Bellucci enjoys life, food, and she appreciates her curves! For those who are not at ease with their curves, she's a true example to follow. Indeed, she even said:
"I'm the living proof that you can be attractive at over 110 lbs" – Monica Bellucci
Therefore, if you have some extra pounds, don't make a fuss about it! But this doesn't mean that you should be unhealthy or obese! When you look at Monica Bellucci, she's curvaceous and feminine. And her body is firm and healthy. She's no couch potato!
And speaking of couch potato…
Monica Bellucci's exercise routine
"I'm not someone who wakes up at 6 A.M. to go to the gym" – Monica Bellucci
Monica Bellucci is not a fitness fanatic, unlike many American movie stars. However, this doesn't mean that she doesn't exercise! Indeed, she prefers to have a natural approach to exercise. Thus, she enjoys swimming four times a week.
Also, she is a regular practitioner of yoga and Pilates. These two disciplines enable you to realign your body, while taking care of your spirit as well. Moreover, by harmonizing your mind and body, they provide an immediate sensation of well-being. And they keep you in amazing shape!
Monica Bellucci's makeup routine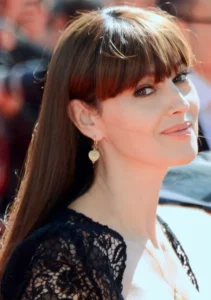 "Lipstick is the most valuable weapon in a woman's make-up kit. It has the power to transform the appearance and mood of the person wearing it, and, at the same time, arouses the admiration of everybody else" – Monica Bellucci
When she's not on set, Monica Bellucci enjoys a natural appearance. Indeed, as a typical Italian woman, she doesn't go out without makeup. However, she's not wearing heavy makeup on a daily basis.
For instance, she will wear a light foundation, a little bit of mascara, and some gloss on her lips. In particular, she enjoys Dior products, as she is an ambassador of the brand.
However, when she's on the red carpet, she will favor a more dramatic approach with her makeup. For instance, she will wear Dior Rouge Première on her lips, and smoky eyeshadows.
Monica Bellucci's hair care tips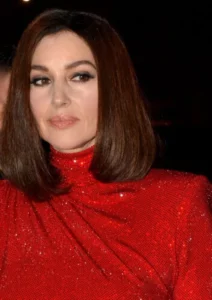 Her hair care routine is minimalistic as well! Indeed, Monica Bellucci dilutes her shampoo with water. Thus, she avoids weighing down her lengths while maintaining her voluminous tresses. She uses Elseve/Elvive products for her hair (L'Oréal).
Also, she ends her hair care routine with some drops of olive oil. This enables her to nourish her ends without greasing her hair.
As for her hairstyles, Monica Bellucci always wears an impeccable blowout on long, dark hair. However, she wears buns sometimes. And the result is incredibly chic! She rally looks like a madonna with her look…
Monica Bellucci's wellness habits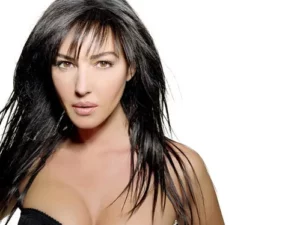 "I do acupuncture. Because it really helps. It is the opposite of Botox. Botox blocks, and acupuncture moves" – Monica Bellucci
Monica Bellucci enjoys massages and acupuncture. She even transmits this love for massages to her daughters, as she massages them with almond oil. Once in a while, she visits a beautician to get acupuncture-based massages and facials. Indeed, they awakens the lymphatic system and her entire face.
Monica Bellucci's perfume
Monica Bellucci alternates between her three signature fragrances:
Hypnotic Poison by Dior
Gabrielle by Chanel
Shalimar by Guerlain
I do believe that these three fragrances suits her personality very well: sensual, exotic, and extremely feminine. What do you think?
Inside Monica Bellucci's vanity case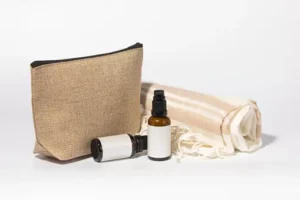 Do you want to emulate Monica Bellucci's beauty routine? Here are the beauty products you'll need. The good news is that she uses cheap products as well!
Summary: what can we learn from Monica Bellucci's beauty secrets?
"I don't stress myself about my looks. I love to laugh. I like being able to lead an interesting life" – Monica Bellucci
Well, I really enjoyed exploring Monica Bellucci's beauty secrets! Indeed, she's very natural and she doesn't rely on complicated routines to take care of herself. Also, she understands that aging gracefully is the true essence of beauty. Consequently, if you want to emulate Monica Bellucci's beauty routine, here are her most important tips:
adopt a minimalistic skincare routine;
exercise often and opt for disciplines that align your mind and body simultaneously;
wear light makeup during the day and show off during special occasions;
enjoy massages;
live your life to the full at any age.
Well, that's it for today! What do you think of Monica Bellucci's beauty secrets? Have you implemented some of them in your own beauty routine? Feel free to share in the comments below!
Take care!
Click here to receive my free ebook on the 9 time-tested secrets to eternal youth.