Hello lovelies!
I bet you enjoy avocado in your salads or your favorite breakfast toast. You may even enjoy guacamole in your favorite Mexican restaurant! And for those who enjoy clean eating, avocado oil has become your oil of choice to cook.
In a few words, avocado is a wonder of nature which offers many benefits for your body and your health. But did you know that avocado oil also had many benefits for your skin and hair? Indeed, it is a staple that you want to include in your skin routine right away.
Let's learn about the multiple benefits of avocado oil for your hair and skin!
Disclaimer: This post contains affiliate links. I may earn a commission whenever you click on the links and purchase the products, with no additional cost to you.
What is avocado oil?
Avocado oil derives from the pulp of avocado. Thus, it is quite unique, since many other oils are extracted from the seeds of plants.
Avocado oil contains fatty acids, antioxidants, as well as many vitamins and minerals (A, C, E, B6, niacin, potassium, and magnesium). Thus, avocado oil will nourish, moisturize, and lubricate your skin and hair at its highest capabilities.
What are the benefits of avocado oil for your hair and skin?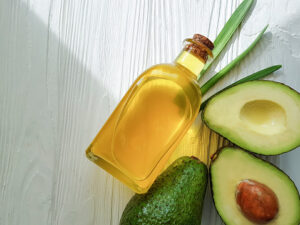 Thanks to its composition, avocado oil has multiple benefits for your hair and skin. That's why you should include it in your daily beauty routine. You won't regret it!
Moisturizes your dry skin
Thanks to its high level of fatty acids, avocado oil is THE emollient you need to moisturize your dry skin. By forming a protecting barrier on your skin's outermost layer, avocado oil prevents loss of moisture. Also, it helps to keep your skin supple, soft, and moisturized all day long.
Moreover, avocado oil is ideal to nourish chapped lips. Indeed, it will create a protective barrier over your lips, especially from environmental stressors.
Soothes your skin inflammation and irritation
Avocado oil has anti-inflammatory properties. You'll be able to get rid of skin conditions such as eczema, dermatitis, and psoriasis.
Also, if you have wounds, avocado oil can accelerate your healing process. Indeed, it will increase collagen synthesis, which helps your wound to heal faster. Say goodbye to flushed, red, and scaly skin with avocado oil!
Protects your skin from sun damage and free radicals
Everyday, we expose ourselves to sun, pollution, smoke, and environmental stressors of all kinds. Fortunately, avocado oil will protect you from free radicals thanks to its richness in antioxidants (carotenoids, vitamins C and E).
Also, if you have sunburnt skin during your holidays, avocado oil will help you. Thanks to its oleic acid, avocado oil will soothe, repair, and protect your skin. Moreover, it will strengthen your skin's barrier functions and symptoms of sun damage.
Prevents wrinkles
Thanks to its antioxidants, avocado oil has anti-aging properties. By fighting free radicals and increasing collagen synthesis, it will reduce your fine lines, wrinkles, and dark spots. Also, avocado oil is wonderful to keep your skin's elasticity.
Promotes hair growth
Did you know that avocado oil is great to nourish your scalp? Thanks to its multiple nutrients and antioxidants, avocado oil nourishes the hair follicles and prevent oxidative stress.
Moreover, the fatty acids of avocado oil will enable it to moisturize your scalp while reducing itching and flaking. All these factors are necessary for a healthy and fast hair growth.
Reduces hair breakage
Avocado oil will repair, strengthen, and protect your hair. If you use it as a hair oil, it will reduce split ends and hair breakage. Detangling your hair will be a lot easier, especially if your hair tends to have knots. Brittle and dry hair will be a distant memory!
Makes your hair more manageable
Do you have frizzy and unmanageable hair? Then, avocado oil is THE solution you need to fix your hair problems! Indeed, avocado oil forms a protective coat over your tresses and seals you cuticles in moisture. Thus, your frizzy hair will be tamed appropriately, leaving it softer and shinier.
How to use avocado oil for your hair and skin
Avocado is a carrier oil that you can apply directly on your skin and hair. Below are some ways to use avocado oil for maximal results.
Skincare
Makeup remover
Massage a few drops of avocado oil on your face. Remove your makeup with a cotton pad. Then, wash and moisturize your skin as usual.
Moisturizing oil
You can use avocado oil to replace your day cream. Just take a few drops of avocado oil and massage it on damp skin. To get results, use avocado oil every morning and evening at the end of your daily skincare routine.
Also, you may use avocado oil to moisturize your body as well.
Face mask
You may add a few drops of avocado oil in your face masks for extra nourishment. This especially applies to people with dry skin.
Lips
Put some avocado oil on your lips twice a day to keep your lips soft and properly moisturized.
Hair care
Hot oil treatment
Massage some warm avocado oil on your hair and scalp. Then, let it sit at least 30 minutes under a heating cap. If you have extra time, you can even leave it overnight. Then, wash the oil with a mild shampoo and carry out your hair care routine as usual.
Frizz control
Add a few drops of avocado oil on your damp hair ends to control your frizz and detangle your hair more easily.
Seal in moisture
If you have afro hair, you know that your must always seal your hair with an oil after applying your leave-in. Avocado oil is one of the best sealing oil that you can choose. And you can use it anytime, at every season!
What kind of avocado oil should you choose?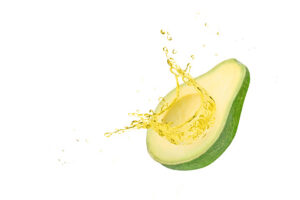 There are three types of avocado oils, depending on the extraction technique and levels of processing.
Extra virgin avocado oil
This is the best quality avocado oil that exists on the market. Indeed, it comes from cold-pressing superior quality avocado pulp. Also, there is no added chemical solvents in this oil. Thus, it's the purest form of avocado oil.
Virgin avocado oil
It's quite similar to the extra virgin avocado oil. Indeed, it has no added chemical solvent and has no processing. However, the quality of avocado pulp used to extract the oil is lower.
Plain avocado oil
This is the refined avocado oil and the least beneficial for your hair and skin. Indeed, it underwent deodorization and bleaching process to alter its color and smell. Therefore, all this processing have deteriorated its nutrients and its benefits for your beauty as well.
Personally, I recommend you to use the extra virgin avocado oil since it contains all the original nutrients and fatty acids you'll need. I've been using Naissance Virgin Avocado Oil for years and I've reaped the benefits for my hair. However, the smell of avocado is quite strong with this oil, so if you're sensitive to smell, don't use it on your skin!
Summary: why avocado oil is good for your hair and skin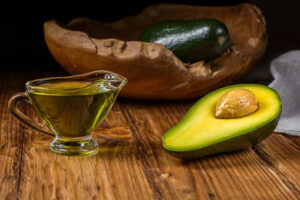 Avocado oil is rich in nutrients, antioxidants, and fatty acids. Thus, it is appropriate to take care of dry and damaged skin and hair. Indeed, avocado oil has multiple properties that will leave your hair and skin supple, repaired, and soft. However, to reap the maximum benefits from avocado oil, you must choose the extra virgin kind. Satisfaction guaranteed!
That's it for today! Do you use avocado oil in your beauty routine? How do you use avocado oil for your hair and skin? Share it in the comments below!
Take care!
Click here to receive my free ebook on the 9 time-tested secrets to eternal youth.