Hello lovelies!
As a black woman with natural hair, my hair caused me some problems.
As it is extremely dry, I had to figure out how I had to take care of it. Indeed, I had a hard time retaining moisture. Consequently, my hair was dull and shed quite often.
Fortunately, I have found some oils that worked for me to treat my dry hair. And I'm sharing them with you today.
Do you recognize yourself in my issues? Then, no worries! Here are the best natural oils for dry hair you can use on a daily basis. Once you adopt these oils, I can guarantee you that your relationship with your hair will change…for good!
Disclaimer: This post contains affiliate links. I may earn a commission whenever you click on the links and purchase the products, with no additional cost to you.
Why do we have dry hair?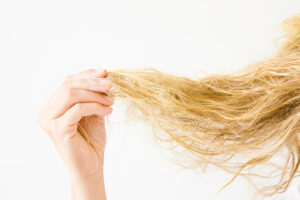 Many factors lead to dry hair, including hair nature, environmental conditions, hair care practices, and some medical conditions.
Your hair nature
Some hair shafts are drier than others. For instance, afro hair is the driest hair type because natural oils get stuck at the root. They don't come through the whole hair strands. Thus, Afro hair can be completely brittle and break often if not properly handled.
Environmental factors
Some environmental factors can cause dry hair, especially:
living in a dry and hot climate
staying often in the sun or the wind
swimming in chlorinated or salty water
washing your hair with hard water
Hair care practices
Many hair care practices can cause your hair to be dry. They include:
washing your hair too often
using hair products containing harsh ingredients such as sulfates
treating your hair chemically
blow-drying your hair on a daily basis
using electric curling irons, straighteners, or curlers
Medical conditions
Some diseases can lead to dry hair as a side effect, such as:
anorexia nervosa
thyroid dysfunctions
Menkes syndrome (low copper absorption in your body cells).
What are the best natural hair oils to treat dry hair?
Treating dry hair means that you should give it proper moisture and nutrition. That's why your hair will need oils to help restore them.
Coconut oil
Thanks to its omega-3 fatty acids and vitamin E, coconut oil moisturizes your scalp while adding shine to your hair. Also, coconut oil keeps your hair looking healthy by reducing protein loss. It's one of the rare oils that really penetrates your hair shaft for an in-depth repair.
Olive oil
Olive oil is rich in fatty acids, vitamin E, and other unsaturated fats. Therefore, olive oil is excellent for:
nourishing your hair follicles
preventing dryness and locking your hair in moisture
soothing your scalp and boosting your hair circulation
reducing hair breakage
making your hair stronger and thicker
Avocado oil
Avocado oil is rich in fats, minerals, and antioxidants. Thus, it's the perfect oil to moisturize, replenish, detangle, and revitalize your hair. Moreover, since avocado contains biotin, its oil will strengthen your hair and stimulate its growth.
Sweet almond oil
Sweet almond oil is rich in antioxidants, healthy fats, vitamins, and zinc. Therefore, it's the best natural hair serum. It will strengthen your hair, prevent breakage, protect and moisturize your hair strands thanks to its emollient qualities.
With all these elements, this oil will literally transform your dry and dull hair into a shiny, smooth, and healthy hair shaft.
Argan oil (Moroccan oil)
Known as the "liquid gold" in Morocco, argan oil is full of essential fatty acids and antioxidants. Argan oil will moisturize and lubricate your hair shaft. Also, it helps reduce frizziness and boost shine.
Moreover, thanks to its fatty-acid chains, argan oil prevents damage induced by coloring, styling, and sun exposure.
Castor oil
Castor oil has antioxidant, anti-inflammatory, and antimicrobial properties. Thus, it will moisturize your tresses while keeping them healthy and shiny. Also, you can use castor oil to stimulate hair grown and remove dandruff. For more potent results, use Jamaican Black Castor Oil.
Jojoba oil
Rich in vitamins, essential fatty acids, zinc, and copper, jojoba oil has incredible moisturizing properties. It will repair your hair while making it softer and more manageable.
Macadamia oil
Hailing straight from Australia, macadamia oil is also rich in vitamins and fatty acids. Thus, it is a wonderful scalp moisturizer and hair strengthener. In addition, macadamia oil has the following benefits:
moisturizes the scalp
boosts shine
regulates oil production
Japanese camellia oil
Have you ever wondered the secret of Japanese women to get their shiny hair? Then, turn to camellia oil, a.k.a tsabuki oil.
Japanese camellia oil is rich in antioxidants and oleic, linoleic and palmitic fatty acids. In addition, it's an excellent non-greasy moisturizer for dry hair. You can especially use it in the following cases:
making hair more manageable
restoring hair's natural sheen
retaining moisture
fighting against environmental pollutants
repairing breakage and split ends
easing dry scalp and itchiness
preventing dandruff
treating damage caused by excessive perms and coloring
However, be careful if you want to buy this oil and always look for the Camellia Japonica kind. My favorite brand for Japanese camellia oil is Fushi Wellbeing UK.
How can you use these oils?
These oils can be used as pre-poo treatments and in deep conditioning hair masks. In addition, you can use them as sealants if you have Afro hair.
Nevertheless, you should be careful with coconut oil as not every hair can stand it. If you hair become hard and drier while using coconut oil, I recommend you discontinue its use. Moreover, don't apply these oils on your hair if you're allergic to them.
In conclusion, dry hair can be caused by several factors that affect your hair. However, by using these 9 best natural oils for dry hair, it will be transformed for the best!
Well, that's all for today! Do you use one of these natural oils in your hair care routine? Share your experience in the comments!
Take care!
Click here to receive my free ebook on the 9 time-tested secrets to eternal youth.