Hello lovelies!
Do you have dry, damaged, and dull hair? Is your skin so dry that you're desperate to make a change?If this is your case, I have good news for you! Indeed, with argan oil, you will get the results you need beyond your expectations.
Called "liquid gold" in Morocco, this wonderful oil brims with multiple repairing and moisturizing properties to take care of your hair and skin. Thus, this oil is the ideal staple you need in your bathroom to take care of your beauty.
However, you must know how to use it to benefit from its wonderful properties. Let's discover the beauty benefits of argan oil for your hair and skin!
Disclaimer: This post contains affiliate links to help me support this blog. I may earn a commission whenever you click on the links and purchase the products, with no additional cost to you. Thanks in advance for your support!
What is argan oil?
Argan oil is extracted from the kernels of the fruit of the argan tree. This tree grows mainly in the South West of Morocco. Consequently, people call it "Moroccan oil" for this reason. In 1988, Morocco's Argan Tree Biosphere Reserve even became a UNESCO World Heritage Site.
Traditionally, argan oil is produced by Berber women in cooperatives. Using ancestral methods, they delicately extract the almonds contained in the kernel of the tree's fruit. Then, they crush these almonds and transform it into a paste. Afterwards, they mix this paste and blend it with warm water to obtain the famous argan oil.
If the kernels are roasted before use, argan oil is intended for food use. Highly nutritious, you can recognize by its dark color and nutty taste. However, when the kernels are not roasted, you can use argan oil for cosmetic or therapeutic purposes. Also, when the oil is lighter in color, you can apply it to your skin, hair, and nails.
What is the composition of argan oil?
As a highly prized oil on the market, argan oil has many nutritional, cosmetic, and therapeutic properties. Indeed, it contains many beneficial components such as:
vitamins A and E
essential fatty acids (omega 6 and 9)
antioxidants
The multiple benefits of argan oil for your skin
Fortunately for us, many women come back to nature's gifts to moisturize their skin. As a God-sent gift, argan oil has many benefits for your skin. Here are some that you can discover.
Replaces your day cream
Do you think you can't live without your day cream? Then, you'll change your mind with argan oil. Indeed, this oil is excellent for your skin as it gives it greater elasticity and suppleness.
Moreover, argan oil is a natural anti-aging agent. Rich in antioxidants, argan oil effectively combats skin aging. Also, it can be used to moisturize the rest of your body. It's not just for your face!
Promotes skin healing
Do you have constant dry skin, chapped skin, eczema, or stretch marks? Then, argan oil is the quintessential remedy you'll need to fix these woes!
Indeed, argan oil has exceptional healing properties. Moreover, it soothes itchy or irritated skin. You can also use it to soften skin damaged by scars.
In winter, don't hesitate to use it as a lip balm. Indeed, argan oil is very effective to combat chapped lips. Apply it to your lips every evening before bedtime, and your chapped lips will become a bad memory! Also, don't forget to apply it to your hands and feet before going to bed, especially if you suffer from chilblains.
Finally, argan oil is particularly recommended for pregnant women. Indeed, it will help them prevent stretch marks on the stomach, upper thighs, and breasts.
Fights against acne effectively
You may ask me: how can you apply oil on an acne-prone skin??? I know, this may seem counterintuitive. However, argan oil is a formidable acne fighter.
Indeed, we might think that applying oil to oily skin would only aggravate the situation. However, thanks to its antioxidant power, argan oil helps acne-prone skin regain its balance, without clogging pores.
Moreover, the healing properties of this oil enable the skin to regenerate more easily and to reduce skin inflammation. To treat acne-prone skin, apply a few drops of argan oil morning and evening to clean, makeup-free skin.
What are the benefits of argan oil for your hair?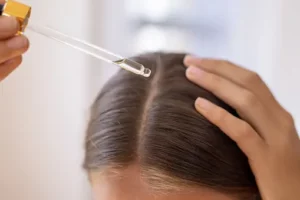 Rich in essential fatty acids, vitamin E, and antioxidants, argan oil has many nourishing and moisturizing properties for your hair. Deeply moisturizing, fighting the signs of aging, repairing damaged hair…The beauty benefits of argan oil for your hair are numerous. What if we discover them together?
Deeply repairs and nourishes your hair
As you may know, our hair is mainly made of keratin, lipids, mineral salts, and water. Therefore, it needs deep nutrition and hydration to stay healthy.
If you apply argan oil as a pre-wash hair treatment or as a mask, your hair will be nourished, soft, and supple. Moreover, you can also use argan oil after heavy exposure to environmental elements (sun, wind, and cold). Thus, this oil will repair and nourish your weakened hair.
Protects your hair lengths and ends
The composition is also useful in preventing all external aggressions to your hair on a daily basis by many factors and tools:
heat from styling appliances
chemical coloring, bleaching, or straightening
synthetic shampoos
shampoos unsuitable for your hair type
plastic brushes
pollution
UV rays
cold and wind
salt, chlorinated or hard water
rubbing on clothes and sheets
extremely tight hairstyles
synthetic styling products: hairsprays, gel, etc.
As such, all these daily micro-aggressions generate a production of free radicals. Thus, they can lead to dryness and damage to your ends, especially at the ends. Thanks to its high concentration of antioxidants and essential fatty acids, argan oil counteracts this oxidative stress and coat the hair fiber.
Therefore, argan oil helps to limit the appearance of split ends, so that your hair will be less affected by harmful external agents.
Moisturizes your hair
Sebum is produced naturally by the scalp's sebaceous glands. It protects the hair fiber by creating a hydrolipidic film around it, like a waterproof barrier. Moreover, sebum acts as a barrier against water evaporation, helping to maintain, protect, and regulate hair hydration.
Regular stresses such as over-frequent washing, the use of drying shampoos and styling products, or pollution and bad weather, damage this hydrolipidic film. Therefore, your hair is more exposed to dehydration, especially if you have dry hair.
Thanks to its high level of essential fatty acids, argan oil is ideal for strengthening this protective barrier and preserving dry, fluffy, or dehydrated hair. Also, it is the ideal oil for caring for frizzy hair as well.
Fortifies and sheathes your hair
Argan oil restores strength and vitality to your hair and coats your hair fiber. Moreover, it smoothes the scales of porous hair, making it supple, resistant, and disciplined. Also, argan oil helps to limit uncontrolled frizz.
Adds volume and redefines your curls
Do you have curly, frizzy, or wavy hair? Then, argan oil is your best ally! Indeed, as it smoothes the scales of porous hair, your hair will be left feeling supple. Thus, argan oil helps to structure and redefine your curls.
Restores shine and radiance to your hair
By deeply regenerating your hair, argan oil restores shine and radiance from root to tip. For instance, if you have dull, tired and color-treated hair, argan oil will make your hair silky. Thus, you will have soft and luminous hair once again!
Stimulates hair growth
When you apply argan oil in circular massages on your scalp, it will stimulate hair growth. Thus, it will boost your blood microcirculation, your cell renewal, as well as the production of keratin and sebum in your hair bulb. Consequently, all this boosts your hair growth, densifies your hair, and reduces hair loss.
In addition, you can use a shampoo enriched with argan oil to stimulate your hair growth as well. Indeed, if you use it regularly, you will have tremendous results.
How can you use argan oil for your hair and skin?
Mask or hot oil treatment
You can use argan oil as a mask before or after shampooing. Also, you can use it as a hot oil treatment to deeply repair, nourish, and protect your hair. It's ideal to use in homemade hair care recipes.
Depending on the length of your hair, apply one to several tablespoons or argan oil to your scalp, lengths, and ends. Let it sit for an hour or overnight under a warm towel for intense revitalization. You can use this hot oil treatment once a week to once a month, according to the state of your hair.
Hair conditioner
Argan oil is an excellent hair conditioner. Indeed, it will detangle your hair easily, leaving your hair soft, silky, and shiny.
You may use it on its own to avoid greasing your hair. However, you can use it as an ingredient in your own deep conditioner recipe.
Revitalizing mask for dry and damaged hair
Mix the following ingredients in a bowl:
argan oil (2 tablespoons)
wheat germ vegetable oil (2 tablespoons)
ylang-ylang essential oil (5 drops)
black spruce essential oil (5 drops)
On dry or damp hair, apply the mask strand by strand, avoiding the roots. Wrap hair in a towel and leave on for 30 minutes. Then use a mild shampoo to wash hair and properly remove oils. This mask can be used 2 to 3 times a month.
Styling oil
Argan oil can also be used daily to tame your hair, smooth and discipline flyaways and control frizz. Thus, you'll be able to achieve your most beautiful hairstyles without using synthetic hairspray or gel.
Simply dispense a few drops of oil into the palms of your hands before applying to your hair to set your style. Afterwards, your hair will stay in place, protected and shiny all day long.
Split end care
Don't hesitate to use a few drops of Argan oil to protect your ends and prevent split ends. To do this, apply a very small amount of oil to the ends of your dry or damp hair, morning or night.
Skin moisturizer
Use a few drops of argan oil on your face to use it as a day cream. Moreover, you can use argan oil as your usual body lotion, especially if you have dry skin.
Are there any side effects of using argan oil for your hair and skin?
As a general rule, argan oil is quite safe for anyone. However, if you're allergic to nuts, stay away from argan oil. Consequently, I advise you to do a patch test before using argan oil.
What kind of argan oil should you use?
Nowadays, argan oils of different qualities are available on the market. To be sure you're using the best possible product, the first thing to look for is cold-pressed, unrefined, vegetable argan oil. To ensure that the oil retains all its virtues, it must be extracted using low-rotation mechanical millstones. Thus, this prevents the temperature from exceeding 60°Celsius.
To select your argan oil, I recommend the following criteria:
Select an organic argan oil, 100% pure and vegetable
Make sure it is not combined with any chemical products
Avoid refined oils at all costs
Always choose cold-pressed argan oil
The ideal argan oil shouldn't contain added fragrances (it emanates delicate scents of toasted sesame and hazelnut in its natural state)
It should be stored in a glass bottle, preferably tinted to prevent light fading.
If I had to recommend a brand, I would choose the Organic Argan Oil from NOW Solutions. It's pure, 100% organic, and rather cheap. However, you can also find organic argan oil in your regular health stores.
Summary: what are the beauty benefits of argan oil for your hair and skin?
There are many beauty benefits of argan oil for your hair and skin. Indeed, it has moisturizing and repairing properties for dry and damaged hair. Also, it is a wonderful oil to heal, moisturize and prevent aging for dry skin. If you don't use argan oil in your beauty routine, I hope this article will help you change your mind. I guarantee you'll be utterly satisfied when you use this "liquid gold" regularly!
Well, that's all for today! What do you think of beauty benefits of argan oil for your hair and skin? How do you use argan oil in your daily beauty routine? Fell free to share in the comments below!
Take care!
Take care!
Click here to receive my free ebook on the 9 time-tested secrets to eternal youth.