Hello lovelies!
For most of us, the New year season is synonymous of new resolutions. The implementation of new beauty habits is part of them.
Have you included more TLC for your nails in your beauty routine this year? Then, you are right to do so! Because this winter 2023 offers us the fanciest nail polish color trends that we've seen in a while.
Indeed, depending on your style, you will find the perfect shade for you. Whether you like classic shades or unexpected twists, you'll find what suits you the best.
Reds, earthy tones, metallics, and other classic shades dominate the nail polish color trends this season. But other classics have also found their way on many nails. Let's review them below!
Disclaimer: This post contains affiliate links. I may earn a commission whenever you click on the links and purchase the products, with no additional cost to you.
Black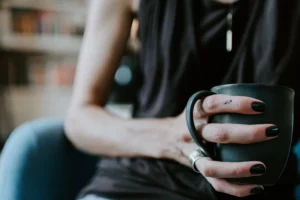 Do you want to channel your inner Wednesday Addams? Then, black is the perfect shade to wear! This shade is a classic and won't go out of style anytime soon.
Whites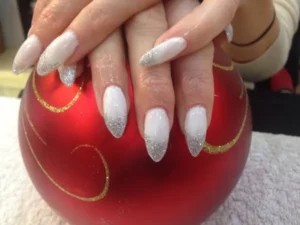 It's not really surprising to find white as a trendy shade this winter. Many fashionistas favor this color as it is a sweet reminder of snow.  Also, it's the ideal color if you want a sleek and clean look for your nails. For more inspiration, just look at the nails of the Duchess of Sussex during her engagement announcement. Neat, chic, and classy!
Metallic tones
This winter, disco era is back! Indeed, silver, gold, and chrome variations are all over social media. You may even find unexpected shades such as metallic lilac.
What if you don't like nail art but still enjoy having fun with your nails? Then, try these shades! You can easily recreate them at home. Also, you'll have your Beyoncé-like moment – in the 2000s, Beyoncé really liked golden hues on her nails!
Reds
From Rita Hayworth to Lana del Rey, many vintage and current celebrities favored this nail polish color. Red shades are classic and chic, and won't go out of style anytime soon. They also look great on any skin color!
Also, red is the right color to start the new year as it supposedly brings good fortune in other cultures (hello China!). For a more sophisticated look, you can rely on burgundy shades.
Blues
Blue tones are very trendy this winter, whether they come up as midnight or baby blue. They are especially adapted during this winter, as their hues remind us of colder days. If you want more universal tones, turn to midnight blue. But if you want to stand out, then baby blue is the perfect shade for you!
Earthy tones
Normally, earthy tones are really popular during the fall season. But they are really making a grand entrance during this winter. Elegance, understatement and sleek finition are the main words associated with earthy tones.
Why don't you try rusty reds or olive shades this winter? And for those who like unexpected twists, cerulean tones will be your best friends. The common point with all these colors is that they match any look. Consequently, you'd better give them a try.
Deep browns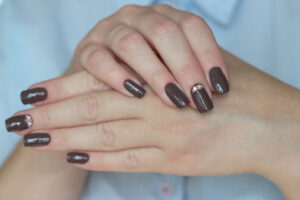 If you're tired of wearing red or burgundy this winter, then try deep browns. Personally, this is my favorite shade because it's classy, original, and it matches my skin tone. Therefore, I can wear it as a nude nail polish. I am especially a fan of Chanel Le Vernis 957 Impulsion and the Eternal Dark nude kit. I also liked Essie Truth or Dare. Unfortunately, Essie no longer sells this shade on the market. Such a shame!
Glazed donut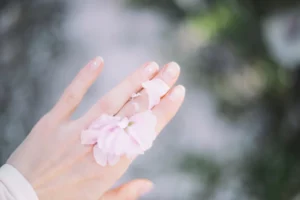 This nail polish color has been a major social media hit since at least the last six months. And it's making its way this winter on our nails. One of the main advantage of glazed donut shade is that they suit all skin tones. Also, it gives you a soft, iridescent and shiny look without using glitter. If you never tried this color, give it a try this winter. You won't be disappointed!
Bonus: French manicure
Well, French manicure is strongly coming back this winter. It's just another testament to the general return of 90s trends in fashion and beauty. However, this classic color is excellent because it enables you to keep an elegant style on every occasion.
However, not everyone has the skills to this at home by oneself. That's why I always recommend you get your French manicure done by your favorite beautician for a flawless result.
In conclusion, classic shades are the main nail polish color trends this winter. Nevertheless, I ask you to watch out for social media trends that can surprise you!
That's all for today! What is your favorite winter nail polish color? Share your answer in the comments!
Take care!
Click here to receive my free ebook on the 9 time-tested secrets to eternal youth.