Hello lovelies!
As 2023 is on, fashionistas and beauty addicts are looking for the new makeup trends for this new year.
And if you're one of them, you might be surprised. Why? Because we will experiment both futuristic vibes and lapses into the past.
Transparence, boldness, and robotics will influence the makeup trends during this year. And it's not so surprising because the Aquarian era is already on…And it shows on the makeup habits as well.
But a return to an era that I thought gone forever? This shocked me very much…But without further ado, let me introduce you the main makeup trends to follow in 2023.
Disclaimer: This post contains affiliate links. I may earn a commission whenever you click on the links and purchase the products, with no additional cost to you.
The 90s are back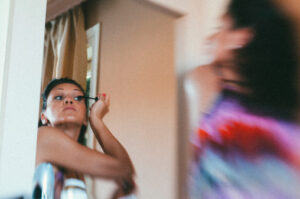 I was a child and a pre-teen in the 90s. So I thought that the 90s makeup trends and habits were a thing of the past. But I was wrong. The more I study fashion, the more I believe that it actually follows a cycle.
This year, the fashion cycle sees the balance tipping in favor of the 90s. And that decade had many makeup trends that are making a resurgence, such as:
bold lips and eyeliners
metallic and frosted eyeshadows
grunge makeup
body gems
bronze and purple lipsticks
flashy blush
monochromatic makeup
If you want to emulate these 90s makeup trends, I recommend you look for celebrities' pictures of that era. Then, get inspiration from them but don't try too hard. Your goal is to remain current while taking inspiration from the past. You shouldn't be completely outdated!
Bold lips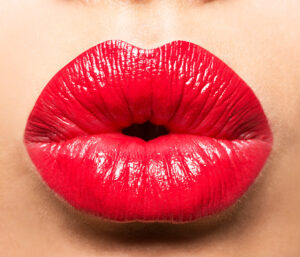 Bold, shocking, and shiny. These are the words that will describe the lip makeup trends in 2023. The lips will even stand alone, while the other parts of the face (brows, face, lashes) will be kept clean and lightly groomed.
As a consequence, you must expect a resurgence of bold lipstick colors. Indeed, red, orange, and purple hues will largely dominate the makeup trends in 2023.
Metallics from the future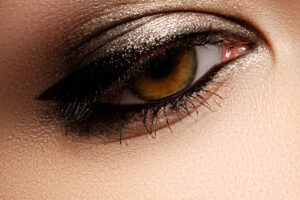 Metallics won't be popular only on your nails. Indeed, the disco era is also making a bold comeback on your eyelids!
The futuristic hues of metallics reflect the conversation around the increasing influence of AI, robotics, and new technologies in our lives. As a result, it also has an impact on the current makeup trends as well.
Therefore, don't shy away from silver and golden metallics when choosing your makeup palettes!
The Euphoria effect
I'm not a huge fan of Euphoria, but I have young cousins who are. And they reported me the face and body embellishments that the heroins of the series wear on their skins.
If you're ready to experiment face and body embellishments, then 2023 is your best year! Incorporate gems, pearls, and glitters of all shapes and sizes during your beautification process, especially for the evening.
You're a little short on your budget but still want to experiment these embellishments? Then, no worries! Don't hesitate to invest in self-adhesive rhinestones. And the good news is that they're not expensive at all!
Siren eyes
This makeup trend comes straight from TikTok. This is even adopted by many celebrities, such as Zendaya.
I'm not generally fond of all the makeup trends coming from social media. But this one is gaining in popularity and helps you express your dark femininity. And I'm all for it!
To achieve this look, you can buy high-technology liners to keep your feline eye on fleek.
Natural glow
After many years of high coverage foundations, all complexions will finally take a break this year. Consequently, we will see a higher rate of transparency in makeup, while looking for natural glow. For this reason, no- makeup products will be one of the main makeup trends in 2023.
Focus less on heavy foundations, and more on lighter options such as tinted serums, moisturizers, and sunscreens. They will give you a natural and glowing skin, while needing minimal blending…unlike classic foundations.
Experimental brows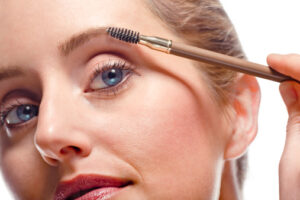 After the domination of bushy and natural brows, you may experiment with your brows again. Some celebrity makeup artists like Melissa Hernandez even predicts that thin eyebrows will make a huge comeback. Like in the 90s…
However, we have also seen many celebrities with bleached brows on the red carpets and magazine covers. One of the best examples is that infamous Interview cover featuring Kim Kardashian.
To be fashionable this year, don't hesitate to experiment with your brows. Whether you want to keep it thin or bushy, that's your choice! Just remember one thing: your brows are an important part of your look and personality. So, just be yourself.
Faux lashes effect
Faux lashes have been a lasting trend right now, for better or for worse. However, for those who don't like the idea of applying them, there's good news. Indeed, you can still achieve a dramatic look with your own lashes! All you need to do is using the right mascara.
Many new mascaras contain volumizing ingredients to help you get the closest equivalent of faux lashes. As a huge fan of mascara myself, my favorites are Diorshow and Hypnose by Lancome.
In addition, if you want to maximize the faux lashes effect, just follow these two tips:
apply a double dose of mascara on your top and bottom lashes
curl your lashes first to obtain a lasting impact
In conclusion, the 90s makeup trends will make a huge comeback in 2023. We are on the edge of choosing between futuristic and vintage makeup trends. Whatever makeup trend you want to choose in 2023, do it in style and stay yourself!
That's all for today! Do you follow one of these makeup trends? Share in the comments below!
Take care!
Click here to receive my free ebook on the 9 time-tested secrets to eternal youth.