Hello lovelies!
Since many centuries, olive oil has been a staple in many Mediterranean cultures, especially in cooking. But if you thought that this was the only use you could do from olive oil, let me tell you that you're wrong.
Indeed, since Ancient Egyptians and Ancient Greeks, olive oil has been used for many beauty hacks, be it for hair, skin, and even nails! It's worth saying that olive oil is a living treasure that has many beauty benefits that can profit you.
Are you ready to discover olive oil's beauty benefits? Let's go!
What is olive oil?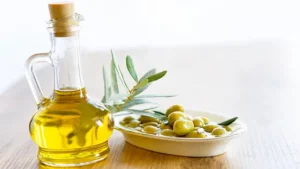 Olive oil is extracted by pressing pure olives. The composition of olive oil is very interesting as it is high in monounsaturated fats (oleic, linoleum, and palmitic acids) and antioxidants suc as vitamin E and oleancanthal. In particular, olive oil has the highest level of oleic acid among all the other vegetable oils.
Indeed, this omega-9 fatty acid multiplies olive oil's moisturizing properties, especially as far as the nourishment of hair strands is concerned. We will come back to this topic later.
What are the benefits of olive oil for your skin?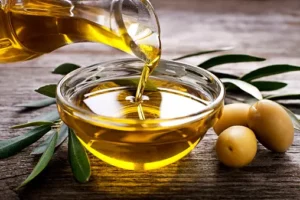 Thanks to its multiple healthy fats and antioxidants, olive oil's skin benefits are tremendous. Indeed, these components enable olive oil to deeply moisturize your skin while preventing the signs of aging.
Deeply moisturizes your skin
Thanks to squalene and vitamin E, olive oil helps your skin retaining moisture, while increasing your skin's ability to absorb and retain water. Your skin will always be smooth and plump with olive oil!
Soothes dry and irritated skin
Olive oil helps relive your skin from conditions such as rosacea, eczema, and psoriasis. Thus, olive oil will keep your skin moisturized and hydrated.
Cleanses your skin
Olive oil helps dissolve oily residue on the skin and is an effective makeup remover, especially for all the waterproof products.
Reduces the signs of aging
Thanks to its antioxidants, olive oil fights oxidative stress, and increases collagen in the skin. Thus, olive oil's action will help you reduce fine lines and wrinkles on your face. I guess it's better than any expensive anti-aging cream! My aunt has been using olive oil for decades as a night cream, and her face is literally wrinkle-free at 78 years old. Just think about it.
Eases wound healing
Olive oil accelerates the process of wound healing thanks to its anti-inflammatory and antimicrobial properties. Also, research has shown that olive oil helped healing diabetic foot ulcers and pressure ulcers.
Reduces puffiness
Thanks to its oleocanthal, olive oil reduces swelling and puffiness under your eyes.
What are the benefits of olive oil for your hair?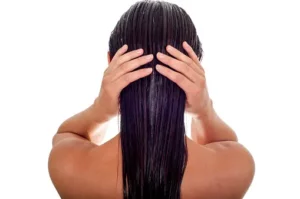 Olive oil has been used for centuries for hair care, especially because of its moisturizing properties. Indeed, olive oil is very popular since it adds shine and conditions the hair. Moreover, olive oils softens the hair and strengthens your hair by penetrating the hair shaft, while locking in moisture at the same time.
However, olive oil is not for every hair type. Indeed, the hair that will benefit the most from its properties are thick, processed, and dry hair. Also, if you have split ends, olive oil will be your best ally.
However, if you have oily hair, you must forget about olive oil. Your hair doesn't need extra conditioning!
Is there any other olive oil's beauty benefit?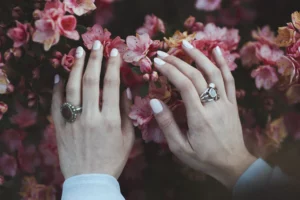 Yes, there are other olive oil's beauty secrets. Indeed, you can use olive oil to strengthen your nails. You can soak your nails in warm olive oil during 10 to 20 minutes before going to bed.
To obtain lasting benefits from this nail treatment, you can do it twice a week. Moreover, you can add lemon juice or lemon essential oil in your olive oil if you want an extra strengthening effect.
How to use olive oil for your hair and skin
There are many ways you can use olive oil for your hair and your skin. Here are some olive oil's beauty tips you can use in your beauty routine.
Makeup remover
Olive oil can be used as the first step of your double cleansing routine. Take a small amount of olive oil in the palm of your hands. Rub it and apply it on your face full of makeup. Then, remove your makeup with a cotton pad.
Face and body moisturizer
Take olive oil and apply it on your face and body. You can also use olive oil in your bath to get a smooth skin. However, you must be aware that you will smell like a Mediterranean salad!
Pre-poo treatment
You can use olive oil alone, or with other oils as a pre-poo treatment. All you have to do is to apply it on your hair and let it sit for at least two hours before washing your hair. If you have extra time, you can leave it overnight on your hair.
Deep conditioner
You can use olive oil as a deep conditioner, especially if you have dry and brittle hair. Here is a recipe for you:
an avocado
an egg yolk
two tablespoons of olive oil
one teaspoon of honey
10 drops of your favorite essential oil (I personally prefer peppermint and rosemary oils)
Mix all the ingredients in a blender. Then, apply it on clean and damp hair. Put a plastic cap and sit under the dryer for 30 minutes. Rinse your hair and admire the result! If you apply this deep conditioner regularly, I guarantee you that your hair will transform for the best.
Hair sealant
Olive oil is a great hair sealant for curly and oily hair. Indeed, olive oil is one of the rare oils to actually penetrate your hair shaft and retains moisture. Use olive oil after your favorite leave-in conditioner.
What are the potential side effects of olive oil for your beauty?
Though olive oil has many great beauty benefits, it's certainly not for everybody. For instance, it can cause breakouts and acne on your face. If you have sensitive skin, you must also use olive oil with caution.
Moreover, you can't use olive oil on your scalp as a hair growth treatment. Indeed, it can lead to fungus and inflammation on your scalp.
What kind of olive oil should you choose?
To get the most of olive oil's beauty benefits, you have several choices. However, you must choose the best quality olive oil you can afford.
Extra virgin olive oil
This is the highest grade of olive oil. It is obtained by cold mechanical extraction without the use of solvents or refining methods. Many experts believe that this is a high-quality olive oil because it has a superior taste.
Moreover, it has some fruitiness and no sensory defects. If you must choose olive oil for your beauty routine, I highly recommend extra virgin olive oil because it is the purest one.
Virgin olive oil
Virgin olive oil is a lesser grade of olive oil, with some sensory defects. However, it still has a good taste.
Refined olive oil
Refined olive oil is virgin live oil that had been refined with charcoal and other chemicals. This olive oil is of lesser quality, and I don't recommend it if you want to get the multiple olive oil's beauty benefits.
Summary: what olive oil can do for your hair and skin
Thanks to its richness in antioxidants and fatty acids, olive oil can be used to moisturize your hair and your skin. Moreover, it strengthens your nails and has anti-aging properties. However, you must always choose the highest grade of olive oil, if you want to get the most of its beauty benefits.
Well, that's all for today! What do you think of olive oil's beauty benefits? Share your thoughts in the comments below!
Take care!
Click here to receive my free ebook on the 9 time-tested secrets to eternal youth.