Hello lovelies!
For centuries, sweet almond oil has been a staple in the kitchens and beauty routines of many women. From Ancient Egypt to China, many women have recognized its potent benefits for skin, hair, and global health.
Consequently, it's not surprising to see that almond oil is still widely used today. And this is especially true for all the women who enjoy natural cosmetics. Thanks to its amazing components, almond oil is the top oil of choice to obtain a radiant complexion and strong hair.
This article will detail almond oil's benefits for hair and skin, which are plenty. Let's discover them together!
Disclaimer: This post contains affiliate links. I may earn a commission whenever you click on the links and purchase the products, with no additional cost to you.
What is almond oil?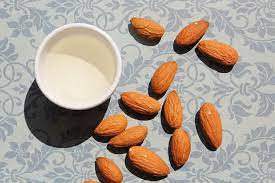 Almond oil is extracted by grinding sweet almonds. It is extremely rich in antioxidants (vitamins A and E), vitamin D, omega-3 fatty acids, potassium, and zinc. All these elements make almond oil extremely interesting for the maintenance of your skin and hair. Indeed:
 Vitamin A stimulates the production of new skin cells and smooth fine lines
Omega-3 fatty acids help preventing premature aging and protect the skin against skin damage
Vitamin E helps prevent skin cell damage caused by UV sun rays
Zinc is essential in healing acne and other undesirable facial scars
The multiple benefits of almond oil for your skin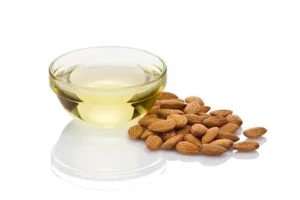 In many ancient cultures, almond oil was a natural miraculous ingredient that healed the skin. Indeed, people used it to treat dry and rejuvenate the skin. Here are the many benefits of almond oil for your skin.
Moisturizes your skin
If you have extremely dry skin, then almond oil is just the moisturizer you need. Indeed, thanks to its fatty acids, it will help you lock in moisture. Thus, you'll be able to keep a glowing skin all day long. Whether you use it on your face or body, almond oil will never disappoint you if you want a dewy complexion. Not only your skin will be deeply moisturized, but it will have a general better texture and appearance.
As a moisturizer, almond oil can be used to fight chapped lips. If you want soft and plump lips, almond oil will help you achieve your goal.
Reduces stretch marks
This property is a bit controversial, as there are not lots of studies to prove this point. Actually, only one study suggested that it prevented stretch marks from appearing on the skin. The plausible explanation is that almond oil has incredible softening properties. Therefore, when you apply it to the areas where stretch marks occur, it will soften the texture of your skin without aggravating them.
Rejuvenates your skin
Is your skin dull, lifeless, and tired? Then, almond oil will help you cure this ailment! Thanks to its softening properties, almond oil rejuvenates and revitalizes your skin naturally. You won't need all these expensive vitamin shots anymore!
Calms acne
If you have acne, almond oil will be a natural alternative to harsher ingredients. Indeed, almond oil is also beneficial for oily skin because it decreases inflammation. Also, it dissolves excess oil from your face, leaving your skin even and smooth.
However, you must be careful when using almond oil for your acne. Indeed, some people may find that almond oil worsens their acne when putting it on their faces. If this is your case, I'd avise you to stop immediately using it.
Relieves skin irritation
If you have sensitive skin, almond oil is a safe emollient as it is lightweight and non-irritating. Thus, almond oil will help you tackle chronic skin conditions such as:
psoriasis
eczema
dermatitis
Thanks to its softening properties, almond oil will continuously hydrate your skin, while keeping it smooth and spotless.
Protects your skin against environmental damage
Since almond oil is rich in antioxidants, it will protect your skin from environmental damage. Thus, it will help you fight against premature aging due to free radicals.
Evens your skin tone
If you use almond oil during a prolonged period of time, you will have an even skin tone and improved complexion. Thus, almond oil will help you crafting a new and improved version of your skin…and of yourself, by extension.
Reduces scars
Almond oil is extremely useful to insure wound healing, especially after surgery. Moreover, ancient Chinese medicine and Ayurvedic practitioners use almond oil to reduce the appearance of scars and soothe the skin.
What are the benefits of almond oil for your hair?
No matter what your hair texture is, almond oil will greatly improve your hair's overall appearance and health. Indeed, with its richness in omega-3 fatty acids, almond oil will smooth your haire while repairing damage in depth.  Below are some benefits of almond oil for your hair.
Promotes hair growth
Many studies suggested that almond oil is very effective at promoting hair growth. Also, when you apply it directly on your scalp, almond oil can help reverse hair loss.
Fights dandruff
Do you have an itchy scalp caused by dandruff? In this case, almond oil will help you tremendously. Indeed, almond oil will reduce inflammation and soothe your scalp. All you must do is applying almond oil on your scalp and all your issues will be solved!
Reduces frizziness
Do you have frizzy hair? Then, a small amount almond oil on your ends will help you reduce frizziness. Also, it will keep your hair hydrated throughout the day.
How can you use almond oil for your hair and skin?
There are multiple ways to use almond oil if you want to benefit from its extraordinary properties for your hair and skin.
Cleanser
If you are an adept of double cleansing, then almond oil will be your best ally. Indeed, it is a carrier oil having the ability to carry other essential oils deeply in the skin.
To make your homemade cleanser, you can mix almond oil with essential oils such as:
lavender oil for a relaxing effect
rose hip oil for a softening and glowing effect
rose geranium to fight wrinkles…
Once you have made your oil cleanser, apply it on your skin and massage gently all over your face to remove your make-up. Then, rinse well and apply your second cleanser.
Moisturizer
If you have dry skin, you will greatly benefit from using almond oil as your go-to moisturizer. Take a small amount of almond oil and apply it on your face and body, as desired.
Lip balm
To treat your chapped lips, you can put a pea of almond oil on your lips morning and evening. Moreover, if you make your own cosmetic products, you may add almond oil in your homemade lip balm.
Hair treatment
Though almond oil is widely used for skin issues, you can also use it on your hair. Here are some uses of almond oil for your hair:
pre-shampoo treatment: put almond oil on your scalp and ends at least 30 minutes before washing your hair
moisturizer: put almond oil on your ends to seal in moisture
Are there any side effects of using almond oil for your hair and skin?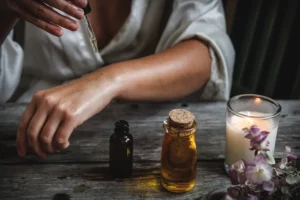 As a general rule, almond oil is quite safe for anyone. However, if you're allergic to nuts, stay away from almond oil. Consequently, I advise you to do a patch test before using almond oil.
What kind of almond oil should you use?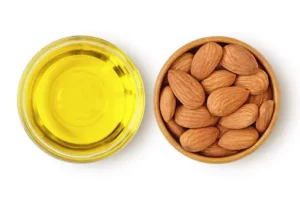 To preserve the properties contained in sweet almond oil, it must be extracted mechanically at low temperature and cold-pressed. Moreover, sweet almond oil must not have undergone any treatment, either before or after pressing. Therefore, the oil must be virgin.
Indeed, most sweet almond oils sold in supermarkets contain chemicals considered to be endocrine disruptors. These chemicals can alter the oil's natural active ingredients. As a result, the oil loses some of its benefits, and is unlikely to have the desired effect on your skin, hair or nails.
In fact, non-organic oils tend to disrupt the sebaceous glands and weaken the skin's defenses. It would be a shame to use a product that isn't effective and may cause you more problems. If you want to optimize your chances of healthy skin and hair, choose 100% pure, natural sweet almond oil!
Therefore, sweet almond oil must be organic to avoid traces of pesticides, which greatly impair its quality. It's easy to find in organic stores, or online on organic cosmetics sites. Personally, my favorite almond oils are:
Whatever oil you decide to buy, always ensure that it's organic, pure, cold-pressed, and of the best quality you can afford!
Summary: what are the benefits of almond oil for your skin and hair?
There are many benefits of almond oil for your hair and skin. It has soothing and softening properties that helps improving your skin and hair. Moreover, it is a miracle of nature to treat dry skin, dandruff, inflammations, and scars. Therefore, having sweet almond oil in your bathroom is more than a necessity. It will be a blessing!
Well, that's all for today! What do you think of almond oil's benefits for your hair and skin? How do you use almond oil in your daily beauty routine? Fell free to share in the comments below!
Take care!
Want more content from me? Subscribe here and receive your free report about the 9 time-tested secrets to eternal youth.