Hello lovelies!
Among the many classics we have in our beauty and style lives, we have those who always stay at every decade. Those include the little black dress, a pearl necklace, and…a red lipstick!
Indeed, red lipstick has been a makeup classic since at least 2500 BC. At that period, ancient Sumerians started to crush red rocks to paint their lips. Since then, red lipstick has stayed a staple in our makeup routines, despite the constant beauty innovations.
But why such fuss around red lipstick? Well, red lipstick is bold and commands attention. Also, it's a perfect appeal to kiss those lips!
However, with all the current lipstick offer on the market, choosing the right shade can be a little overwhelming. Indeed, the shade that suits your girlfriend is not necessarily the best lipstick shade for you. But we have good news! Thanks to this article, choosing the best red lipstick for your skin tone won't be a secret for you anymore!
Disclaimer: This post contains affiliate links. I may earn a commission whenever you click on the links and purchase the products, with no additional cost to you.
How to determine your skin tone and undertone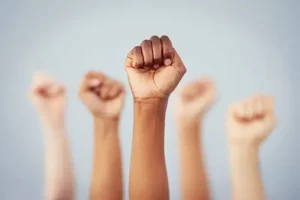 The first step to find the best red lipstick for every skin tone is to define your skin tones and undertones. When you identify them correctly, then you will be able to pick the correct red lipstick shade for you.
You have three major skin tones: fair, medium, and dark.
As for undertones, they also come in three groups: cool, warm, and neutral.
If you don't know your own undertone, I have a tip for you. All you need is to look at the color of your veins on your wrist. If they're green, then you have warm undertones. Blue veins screams cool undertones. However, if your veins seems colorless or blend within your skin, you have neutral undertones.
This tip is also very useful to determine what colors suit you if you want to buy clothes. But this is not the topic of the day!
Which red lipstick for your undertone?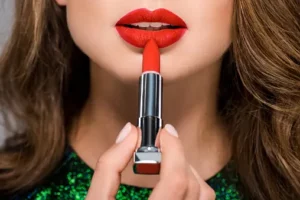 To choose the right red lipstick shade for you, you must refer to your undertone. Actually, your skin color doesn't really matter in this case. For instance, a white person and a black person with cool undertones can wear the same lipstick shades.
Cool undertones
If you have a cool undertone, red lipsticks with blue or purple base will be very flattering on you. Indeed, they will instantly elevate your look and make your teeth appear whiter. For instance, you can choose berry colors to perfectly complement your complexion.
Best red lipstick shades for you: cherry, wine, berry, purple
Example: Nyx Professional Makeup Shout Loud Satin Lipstick, Bright Berry
Warm undertones
If you have warm undertones, red lipsticks with yellow, orange, or golden base are just what you need! Indeed, they will add an effortless glamour to your look and increase your sunny side.
Best red lipstick shades for you: brick, terracotta, candy apple
Example: MAC Matte Lipstick, Kinda Sexy Lipstick Woman
Neutral undertones
If you have neutral undertones, then you're lucky! All shades of red lipstick suit you. So, you can play around with all kinds of red shades. However, if you hesitate between all these shades, always choose a matte lipstick to achieve a sophisticated look.
Best red lipstick shades for you: every shade, but deep corals and cranberry in particular
Example: Maybelline New York Super Stay Matte Ink Liquid Lipstick Makeup, Ruby Red
A red lipstick shade for everyone?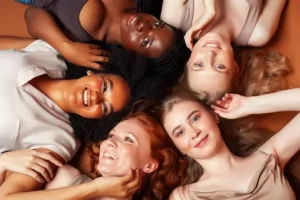 In this day and age of inclusivity, many beauty brands tend to create red lipsticks that everyone can wear. And that's a good thing! Personally, if I had to recommend a universal red lipstick shade, that would be Chanel Rouge Allure Velvet 46 Magnetique. It's a classic that stood the test of time on the market. Also, it's enriched with jojoba oil and shea butter to moisturizer your lips while giving them the best pop of color!
Summary: what's the best red lipstick for your skin tone?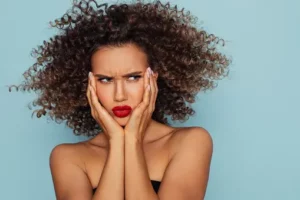 To find the best red lipstick for your skin tone, you must refer to your undertones. Then, you'll be able to choose the best red lipstick shade for you. The only thing I would also recommend is to find your red lipstick according to your budget. You don't need to ruin yourself to look pretty!
Well, that's it for today! Have you found the best red lipstick for your skin tone? Feel free to share your experience in the comments!
Take care!
Want more content from me? Subscribe here and receive your free report about the 9 time-tested secrets to eternal youth.