Hello lovelies!
Makeup is an art. As women, we all think that we master it. However, like many art fields, you have many called and few chosen. You just have to watch all the makeup videos with women putting a whole lot of makeup. Sometimes, certain beauty influencers can't hardly be recognized without all this makeup.
Don't worry: I won't name names!
Do you rely on makeup videos to learn the new trends? Are you afraid of bad taste makeup? Then, your situation is not hopeless.
All you need is getting the right products for your makeup collection. This article will help you to choose the makeup basics you need without spending too much money.
More specifically, I'll talk about six products you need to include in your makeup kit:
primer
tinted moisturizer
concealer
mascara
brow gel
lip color
Disclaimer: This post contains affiliate links. I may earn a commission whenever you click on the links and purchase the products, with no additional cost to you.
Primer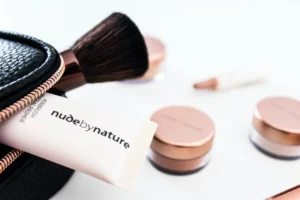 First and foremost, you need a primer as a baseline for your makeup. Indeed, the primer smoothes your skin, making your skin more even. It creates an invisible film on your skin, thus making your foundation looking better as it adheres on your skin. Also, the primer protects the skin from the absorption of makeup pigments. Thus, it creates a barrier that prevents water from evaporating.
Once reserved to professional makeup artists, primer has become more democratic over the years. Indeed, it has found a place in the closet of many women, according to their skin needs. In particular, glow-enhancing and pore-minimizing primers have been the successful formulas these last ten years.
However, you must keep in mind that most primers contain silicons, thus explaining the smoothing properties. But in the long run, silicons can also smother your skin and creates imperfections. Consequently, you must use a primer only for special occasions: marriage, parties, events, or during sport. You don't need a primer for nude and light makeup on a day-to-day basis.
How to apply your primer?
Apply your primer after cleansing and moisturizing your skin. Take a small quantity and apply evenly on your face before your foundation.
Tinted moisturizer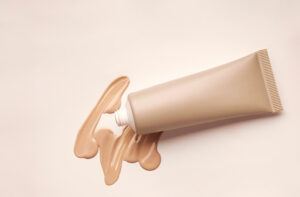 Do you dream of a radiant and dewy skin without using a full coverage foundation? Then, a tinted moisturizer is just what you need.
Indeed, a tinted moisturizer will even your skin tone while infusing it with extra hydration – unlike a classic foundation. Because it combines natural glows and natural makeup, tinted moisturizers have known a tremendous success with women during the past twenty years.  It is especially perfect for athletic activities and in humid climate. In those contexts, thicker makeup might be too heavy and clog your pores.
Before using a tinted moisturizer, you must consider these two elements:
Element #1: Extra hydration doesn't equate moisture
Though tinted moisturizers provide extra hydration, they don't replace your regular moisturizer. Thus, it's very important for you to moisturize your face with your usual cream before putting your makeup on. Then, add an extra layer of your tinted moisturizer on your face.
Element #2: Limited tints
Unlike foundations, tinted moisturizers offer a more limited range of tints. Therefore, you must ensure to find the product that works best on your skin tone.
Concealer
Are you desperate to hide your imperfections? Then, you need a good concealer! Indeed, concealer helps you to hide various skin imperfections. Those include dark circles under your eyes, age spots, acne, scars, or skin discolorations.
Concealers are generally more pigmented than regular foundations. For this reason, makeup professionals always recommend you choose one to two shades lighter than your skin tone. Moreover, they come in various formulas: creams, liquids, powders, and sticks.
If you use it correctly, a concealer will improve your skin and make it look flawless. Here are some cases where a concealer will be extremely useful:
hiding dark circles under your eyes
hiding blemishes
brightening and highlighting your skin
contouring
defining your eyebrows and the contour of your lips
preparing your eyelids before applying eyeshadows
Mascara
If you want to elevate your look, mascara is the best makeup product to do it. Made with polymers, silicons, waxes, and pigments, mascara will make your eyelashes look darker and longer. By contrast, the whites of your eyes look brighter and whiter.
At its inception, women used to apply mascara with a wetted brush, from a cake. Though I enjoy vintage makeup and techniques, I found this practice wasn't hygienic at all. Thank God for modern mascaras with viscous cream and innovative brushes!
In 2023, mascara with faux lashes effect will be trendy. You may benefit from innovation within all brands to find the mascara of your dreams, whatever your budget is.
Brow gel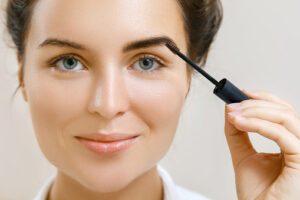 Many women neglect their brows when they apply their makeup. And they're wrong to do so. Indeed, your brows express your personality and shape your face. And that's why you need a brow gel to highlight your brows.
A brow gel is basically a kind of mascara for your brows. It comes in several forms, but all these forms have the same purpose: make your brows look fuller all day long. And the good news is that brow gels are very easy to apply! You just have to follow these steps:
desaturate your brush from extra product
brush it in the opposite direction of your hair growth to apply the pigments
then, apply it in the direction of your hair growth to smooth your brows back
Lip color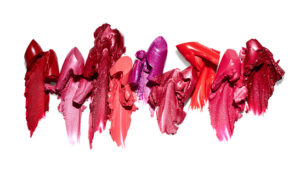 Over the last centuries, women have always tried to draw attention to their lips. Indeed, they thought that they would be more attractive and noticeable. Whether you like lipstick, tinted balm, or lip gloss, your lips will always be better with a pop a color. They also enable you to express your unique personality and style.
By the way, always choose the ones with moisturizing properties to avoid chapped lips over color. I've tried a vintage lipstick once and I understand why Marilyn Monroe had to wear Vaseline on top of her lipstick. They were really drying for the lips!!!!
Summary: what products do you need in your makeup collection?
Makeup applied with good taste enhances and flatters your features. That's why you must choose the best products for your makeup collection. Here are the must-have products you need to include in your closet from now on:
a good primer for special occasions,
tinted moisturizer for a natural look,
concealer to hide all sorts of imperfections,
mascara for longer and darker eyelashes,
brow gel to make your brows fuller,
and lip color to stand out in the crowd.
If you have these products in your makeup collection, I guarantee you that your makeup will always be flawless and on point!
That's it for today! Do you have these above mentioned products in your makeup collection? What are the other makeup products you can't live without? Share your views in the comments!
Take care!
Click here to receive my free ebook on the 9 time-tested secrets to eternal youth.
If you want to go further on this topic: