Hello lovelies!
Do you rely on your creams and beauty products to have a beautiful skin?
Do you think that your cream will be enough to get a radiant skin, despite lousy eating habits?
If that's your case, then you're wrong…Because you are what you eat.
Indeed, a beautiful skin is also the result of carefully planned eating habits. Eating the best foods for a beautiful skin is the best complement for your beauty routine.
Perhaps you don't know what kind of foods you must consume to nourish your skin right now. Is it your case? Then, I have good news for you!
Indeed, this article tells you everything you need to know about this topic.
Vitamin A is essential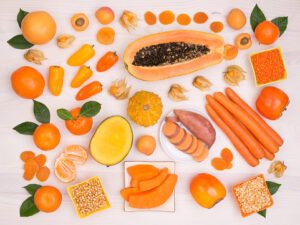 Vitamin A (beta carotene for vegetable sources) is a vital vitamin if you want to get a radiant skin. Indeed, it is very important for normal skin cell development. Thus, it promotes a healthy skin tone. The best sources of vitamin A/beta carotene are:
leafy green vegetables: kale, spinach, broccoli
orange and yellow vegetables: carrots, sweet potatoes, pumpkin, winter squash, summer squash
tomatoes
red bell pepper
beef liver
fish oils
milk
eggs
Stock up your vitamin C
Vitamin C is key to support your immune system, promote a radiant skin, and heal your blemishes of all kinds. Moreover, vitamin C helps you to produce collagen.
Collagen is a protein forming a sort of scaffolding that keeps your skin plump. Also, it strengthens the capillaries supplying the blood which nourishes your skin.
The best sources of vitamin C are:
black currants
blueberries
broccoli
guava
kiwi fruits
oranges
papaya
strawberries
sweet potatoes
Put enough vitamin E in your plate
As a powerful antioxidant, vitamin E protects your skin from oxidative damage, especially photo-aging. Consequently, you absolutely need to include vitamin E in your daily diet.
Foods high in vitamin E are:
almonds
avocados
hazelnuts
pine nuts
sunflower oil
pumpkin seeds
Selenium is your best friend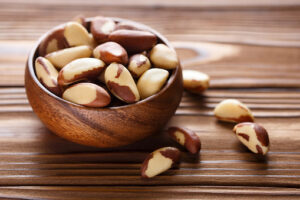 As a powerful antioxidant, selenium works beautifully in combination with vitamin C and E. In fact, many studies show that selenium is helpful in fighting skin cancer, sun damage, and age spots. The best way to boost your selenium intake is to eat 2-3 Brazil nuts per day.
If you're allergic to nuts, don't worry! Actually, you can still find good sources of selenium in the following foods:
fish and shellfish
eggs
wheat germ
tomatoes
broccoli
Zinc, zinc, zinc!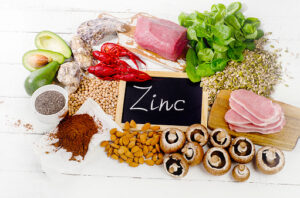 Zinc will help you keep your skin supple while supporting the normal functioning of oil-producing glands in your skin. Also, zinc is involved in the healing process of your skin, since it helps repair skin damage. If you want to include zinc in your diet, include the following foods:
fish and shellfish
lean red meat
whole grains
poultry
nuts
seeds
Eat enough healthy fats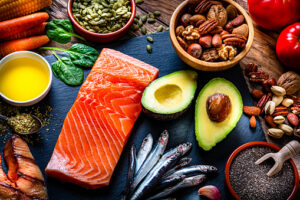 I know that some diets prevent you from eating fats, but this is a mistake. Indeed, some fats moisturize your skin from inside, improving its elasticity. You must especially pay attention to monounsaturated and polyunsaturated fats. You can find them in the following foods:
avocados
oily fish
nuts
seeds
In addition, omega-3 fatty acids need your special attention, if having a healthy skin is your ultimate goal. Indeed, they are anti-inflammatory and help with skin condition such as eczema and psoriasis. Thus, they are key in forming the building blocks of a firm and healthy skin.
You can find omega-3 fatty acids in the following foods:
oily fish: salmon, trout, mackerel, sardine
flaxseeds
chia seeds
walnuts
grapeseed oil
What about phyto-estrogens in your plate?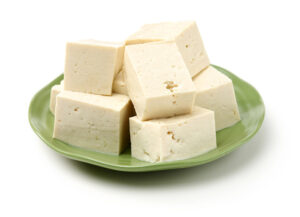 Have you heard about phyto-estrogens? They are natural components found in plants and have a similar structure to estrogen. Estrogens are a female sex hormone that helps keeping your natural hormones in balance.
Moreover, estrogens play an essential role in your skin health. Indeed, it supports your skin structure and minimizes skin damage. Consequently, you may rely on a diet rich in phyto-estrogens, especially at some periods of your life (e.g. midlife).
Generally, you will find good sources of phyto-estrogens in plant foods such as:
soya foods, i.e. tofu and tempeh
whole grains
fruits
vegetables
flaxseeds (in the lignans)
Drink plenty of water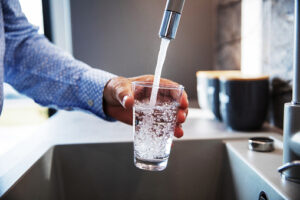 To remain supple, your skin must be hydrated. Indeed, even mild dehydration will leave your skin dry, dull looking, tired, and slightly grey. Consequently, experts recommend you drink 6 to 8 glasses of water daily. Herbal and caffeine-free teas are also excellent to hydrate you from inside out. However, water remains the best beverage.
Also, you may rely on certain fruits and vegetables rich in water:
zucchini
cucumber
watermelon
Conclusion: what you should eat for a radiant skin
Having a beautiful skin doesn't happen by accident. Actually, you must have a solid beauty routine and eat the best foods for a beautiful skin. Therefore, you must eat a selection of foods rich in vitamin A, C, E, phytoestrogens, zinc, and healthy fats. Also, don't forget to drink plenty of water, and your radiant skin is at bay!
That's it for today! Do you eat these best foods for a beautiful skin? Also, what are the foods that you regularly eat in your daily diet? Share in the comments!
Take care!
Click here to receive my free ebook on the 9 time-tested secrets to eternal youth.