Hello lovelies!
I don't know for you, but when I grew up in the 1990s and the beginning of the 2000s, a face full of makeup was a definite no-no.
However, when I scroll around social media and YouTube channels of some beauty influencers, I am quite scared with the current makeup trends. Do we really need to have so much makeup on our faces to be feminine?
Fortunately, the answer is no. We don't need to apply too much makeup to enhance our beauty. But we must definitely kill the "too much makeup" trend and bring back good taste and elegance.
Consequently, I've started this makeup tutorial to remind you that makeup is first and foremost meant to enhance your natural beauty. Here is my step-by-step makeup tutorial for beginners. I've taken these steps from the Bobbi Brown's Makeup Manual. And just between you and me, I believe that Bobbi Brown is one of the G.O.A.T. of makeup artists. Let's get started!
Disclaimer: This post contains affiliate links. I may earn a commission whenever you click on the links and purchase the products, with no additional cost to you.
Step #1: Take care of your skin
Sorry ladies, you must take care of your skin before applying makeup! Indeed, a clean and hydrated skin is the perfect foundation to have a makeup which lasts longer. Also, if you have dark circles, don't hesitate to apply an eye cream. This will enable you to apply your concealer homogeneously.
If you want to have more information about pre-makeup skincare, read my beginner's skincare guide first.
Step #2: Concealer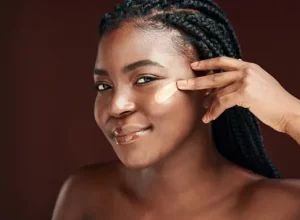 The concealer will help you hide your dark circles and other imperfections. Moreover, it will enlarge your eyes, giving them freshness and radiance.
Apply it under your eyes and all the darker zones of your face, and blend it by patting with your fingers. As a remainder, your concealed must be one to two shades lighter than your skin. If your concealer is dull, it means that it's too clear. On the contrary, if it's too yellow, this means that your concealer is too dark.
Step #3: Foundation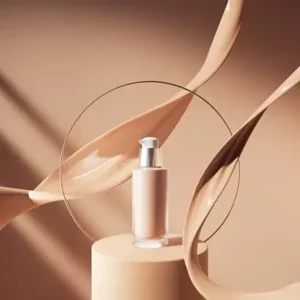 Apply your foundation with a brush, a sponge, or your fingers. If you have imperfections and dark spots, apply a stick foundation of the exact color of your skin. Then, pat with your fingers to blend it. Repeat if necessary.
If you want to find the perfect foundation shade, you must try many shades on your cheek and your forehead. Don't try these shades on your ankle; you're nor trying a perfume!
Moreover, Bobbi Brown recommends to have two foundation shades, according to the seasons: a lighter shade in winter and a darker shade in summer. You must blend the two shades in spring and fall to make the transition.
If you want to unify your complexion, you can use tinted moisturizers to have a more natural and casual look.
Step #4: Powder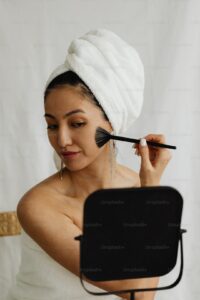 Apply powder of an appropriate shade with a brush or a sponge. This will enable you to fix your concealer and foundation. If you have dry skin, you must apply powder only on your nose and forehead.
Step #5: Blush
Smile and apply your blush on your cheekbones. Blend the blush from bottom to top towards the hairline, and from bottom to top to soften the color. Don't forget to tap or blow on your brush to remove excess powder. If you have a dry skin, choose a creamy blush.
Do you want to warm up your complexion? Then, Bobbi Brown recommends to apply bronzing powder to the areas of your face that are usually affected by the sun: cheeks, nose, forehead, and chin.
Step #6: Lipstick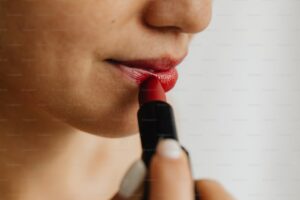 Work on clean, supple, and moisturized lips. You can exfoliate your lips and apply a lip balm before applying your makeup.
You can apply neutral or transparent lipstick/gloss directly from the tube. However, if you work with lighter or darker shades, you must use a lip brush for a more precise application. If you have thin lips, choose a light to medium color as darker shades have a reducing effect.
Also, you must choose your lipstick shade by observing the natural color of your lips. The closer to your natural lip color, the better.
Step #7: Lip liner
For natural definition and to prevent color fading, outline your lips after applying your lipstick. Use a lip brush to soften and blend overly accentuated lines.
For a better makeup hold, you can invert steps n°6 and 7 and apply your lip liner before your lipstick.
Step #8: Eyebrows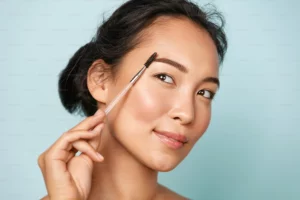 Define your eyebrows with a blush or pencil that matches the color of your eyebrows and hair. Start at the inner corner of the eyebrow and follow its natural shape with light brush strokes. Moreover, if you have unruly eyebrows, discipline them with a modeling mascara.
Step #9: Eyeshadow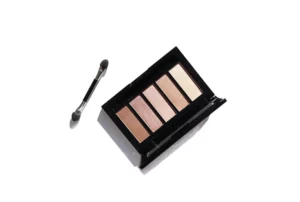 Do you want to apply eyeshadow with multiple shades? Then, here is the process to follow:
Apply a veil of light shadow from your lash line to your brow bone
Afterwards, continue with a medium color on the eyelid down to your crease
If desired, sculpt the eyelid by applying a darker color on the outer part to correct the shape of the eye and add depth to your look
Step #10: Eye liner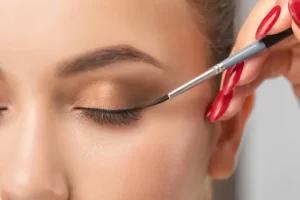 Draw a line along the upper lash line with dark eyeshadow, wet or dry. Afterwards, look straight ahead to see if there are any gaps to fill. If you're also lining the lower lashes, make sure that the lower line is thinner and that the upper and lower lines meet at the outer corner of the eye.
Makeup tip: did you know that black eye liner drew beautiful eyes for a very sexy look? That's why you can add a layer over your usual eyeliner (if it's not already black, of course), but only on your upper lid.
Step #11: Mascara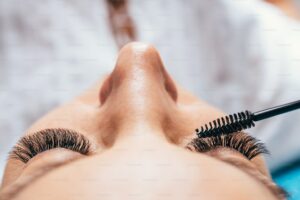 You must choose your mascara according to your needs and the effect you desire on your eyelashes:
thickening mascara densifies each of your lashes, and is ideal for sparse lashes
for enhanced lashes with a natural look, opt for structuring or lengthening mascara
waterproof mascara is ideal if you want your makeup to last longer or if your usual mascara tends to run
Moreover, when you apply mascara, hold the brush horizontally and brush from the root to the tip of the lashes, starting at the outer corner. Then, turn the brush on itself as you apply to separate the lashes and avoid clumping. Always apply two to three coats of mascara.
Also, if you want to curl your lashes, do so before applying mascara. Curling made-up lashes can break them and that's what you need to avoid!
Makeup tip: use black mascara for a striking effect, and brown mascara for a softer effect.
Bonus: Always remove your makeup before going to bed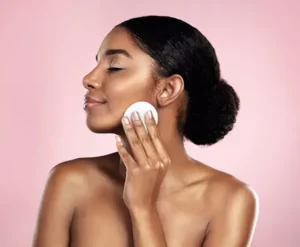 This step is crucial to keep your skin supple and radiant. Indeed, makeup is a great tool to enhance your beauty and hide your imperfections. However, this doesn't mean that you must keep it forever on your face.
Without make-up removal, the pores of the face become clogged with makeup. Thus, the skin can't breathe properly and the epidermis can no longer absorb and benefit from other skin care products.
Therefore, you must absolutely remove all your makeup before bed with a double cleanse. You can get more information about this cleansing method in our beginner's skincare guide.
Summary: the simpler, the better
To sum up, our beginner's makeup tutorial shows that applying an elegant makeup requires skill. However, even if you have several steps in this makeup tutorial, don't worry! It will only take 10 to 15 minutes maximum to apply your makeup properly.
Once you master the proper makeup application techniques, applying makeup will be easy like ABC (yes, this is my Michael Jackson fan side…). Also, never forget that practice makes perfect.
Well, that's it for today! What do you think of this beginner's makeup tutorial? Have you other steps that you follow? Please share your thoughts in the comments below!
Take care!
Click here to receive my free ebook on the 9 time-tested secrets to eternal youth.
Click below to buy Bobbi Brown Makeup Manual: