Hello lovelies!
For some of us, summer means sea, sex, and sun. This implies that you need to look extra fabulous during this season as well!
Unfortunately, summer also brings the most startling reality to many of us. Indeed, the hot weather can induce clogged pores, excessive sweat, sunburns, and dark spots. If you don't prevent these common summer skincare in your daily routine, you'll be doomed.
However, you must know that the situation isn't hopeless. Actually, with the perfect skincare routine, you'll be able to minimize the side effects that summertime can have on your skin. Here are the main summer skincare tips that you need to apply if you want to remain looking dazzling.
Let's discover them together!
Disclaimer: This post contains affiliate links. I may earn a commission whenever you click on the links and purchase the products, with no additional cost to you.
Sunscreen is your skin's best friend
Sunscreen is a beauty hack that must be followed year-round to protect your skin. However, it is extremely important during summertime for obvious reasons. Indeed, the days are longer and you spend more time under the sun. Consequently, you need extra protection for your skin.
Don't forget to apply sunscreen on the areas of your skin that you expose the most. These areas often include your face, neck, chest, ears, and hands. Also, you can enhance your protection with some other beneficial practices for your skin.
For instance, you must avoid exposing yourself during the hours where the UV rays are more extreme (between 10 am and 4 pm). You may also take a supplement that enhances UV light protection. One of the supplements I heard the more about these days is Heliocare.
Cleanse your face religiously
Summertime is the season when we sweat the most. Consequently, you mustn't forget to wash your face twice a day. Thus, you'll get rid of dirt, grime, and toxins accumulated during the day.
Don't hesitate to choose a cleanser according to your skin type. For instance, gel-based and foaming cleansers are excellent for oily and acne-prone skins. On the contrary, dry skins will choose cleansing lotions and oils.
Do you want to kill all the bacteria that clog your pores and cause acne breakouts? In that case, pay attention to the ingredients of your cleansers. Benzoyl peroxide, salicylic acid, and glycolic acid will be your best allies.
Moisturize, moisturize, moisturize!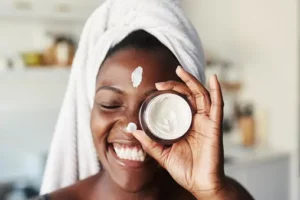 Do you think that summer will make exempt of moisturizer? Then, you're wrong! Actually, you need to moisturize your skin more than ever. However, you don't need heavy moisturizing formulas that you use during winter.
Consequently, you may turn to light moisturizers containing hyaluronic acid. They will help you retaining moisture in your skin without feeling heavy and sticky. Stay away from petrolatum and heavy butters. Also, if you have acne-prone skin, choose non-comedogenic moisturizing lotions.
Add antioxidants in your beauty routine
Adding antioxidants in your beauty skincare tips is essential if you want to combat sun damage. Don't hesitate to use them day and night to fully benefit from their effects.
In particular, I recommend adding resveratrol and vitamin C to your beauty routine, with specific serums. Indeed, they protect your skin from free radicals while boosting your collagen and elastin production. The best summer skincare products with antioxidants are CeraVe Vitamin C Serum and SkinMedica TNS Advanced+ Serum.
However, if you use products with retinoids (a form of vitamin A), be careful during summertime. Indeed, retinoids tend to make your skin more sensitive to the sun. You may reduce the products containing it in your skincare routine. Or, you must add more sunscreen in your routine if you don't want to stop using them.
Exfoliate your skin regularly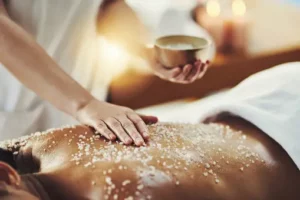 Because of an increase in dirt and humidity, your skin tends to be oilier. Consequently, exfoliation is key to keep your skin look smooth and glow. You may use physical or chemical scrubs, according to your preference. Both are effective and also have their shortcomings. I'll come back to them in an upcoming post.
The only thing you need to know right now is to exfoliate your skin once to twice a week. Indeed, you shouldn't over exfoliate your skin as it makes your skin more sensitive to the sun. Be careful!
Don't neglect your neck
Many women neglect their neck in their beat routine. And they're wrong. Indeed, the skin of your neck is fragile and is the first place that shows your age. Therefore, don't forget to extend your facial products to your neck, especially your moisturizer, sunscreen, and serums. Also, don't forget your add your retinoids on your neck to combat fast aging.
Bonus: Eat the right foods for your skin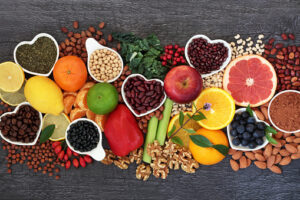 I'll never say it enough on this blog. Your beauty starts from within! Therefore, you must always eat the best foods that will enable you to build a glowing skin. Drink lots of water, eat green leafy vegetables, fruits, and lean proteins. You can learn more about eating fo your a beautiful skin during summertime here and here.
Summary: how to take care of your skin during summertime?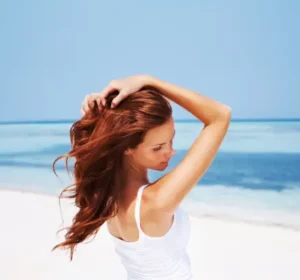 Having a glowing skin during summertime is not difficult. Actually you just need to apply the right summer skincare tips in your routine:
apply sunscreen everyday,
wash your face religiously,
moisturize twice a day without fail,
add antioxidants such as vitamin C and resveratrol in your beauty routine,
exfoliate your skin on a weekly basis,
and never neglect your neck in your beauty routine.
When you apply all these summer skincare tips, I can guarantee you that your skin will thank you!
Well, that's all for today! What are the summer skincare tips that you apply regularly? What are the areas where you need to improve? Feel free to share your thoughts in the comments below!
Take care!
Click here to receive my free ebook on the 9 time-tested secrets to eternal youth.