Hello lovelies!
So, you'll finally travel this summer? Great! Are you going to the beach or the mountains? Will you visit a city or relax in the countryside?
Whatever your vacation projects are, you'll need to always take care of your skin. Indeed, going in vacation in exotic places (or not) doesn't mean you should neglect your skincare routine!
That's why you will need to pack some beauty travel essentials in your luggage. Here is my personal selection that I share with you, due to my personal experience. Ready to discover them? Let's do it!
Disclaimer: This post contains affiliate links. I may earn a commission whenever you click on the links and purchase the products, with no additional cost to you.
Water inside out
I know I repeat myself on this blog, but water is your best ally to keep your skin plump and youthful! Consequently, you should never lack water in your luggage. Of course, you should drink more water to remain hydrated from inside. Also, I recommend you to bring a water spray with you to refresh your skin in case the weather becomes very hot.
However, you must be aware that water is not always safe in some countries, even if it's mineral water. In those cases, either you buy water in local supermarkets (but it might be very expensive), or you drink other hydrating drinks. For instance, you can rely on smoothies or fruit juices. Anyway, you must always foresee some money in your budget to buy water. Always!
Sunscreen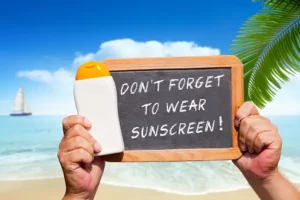 Sunscreen is another beauty trip essential you always need to carry with you everywhere. Indeed, it enables you to protect your skin against sun damage. And if you go to a destination where it's really hot, you might even consider a stronger SPF than usual.
From my personal experience, I believe that all skin tones need sunscreen. For instance, my elder sister has a beautiful dark chocolate skin tone. But she caught a horrible sunburn during holidays in Martinique. Unfortunately, she thought that she was immune to sunburns because she was darker than everyone. But the sun reminded her that this was not the case.
Consequently, please always remember that the sun can be a great friend for your health, but also a formidable foe for your skin. If someone told you that you didn't need sunscreen because of your dark skin tone, be aware that the person lied to you. Always bring sunscreen everywhere you go!
Hair oil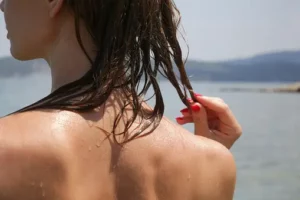 A hair oil will help you protect your hair against damages caused by the sun, sea salt, and other environmental factors. If you have dry hair, or if you will go swimming in the beach often, I recommend you take coconut oil or monoi to protect your hair. Of course, you can take other oils, according to your preferences and the reaction of your hair. It's up to you!
Bug repellent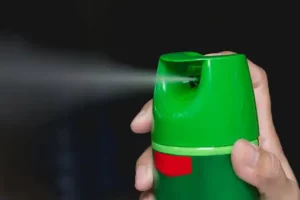 Well, it's not exactly skincare product. However, a bug repellent will be extremely useful to prevent mosquitos and other bugs from attacking your skin. This is especially true if you go hiking or if you go a tropical country.
Try to take the organic kind to be gentle to your skin, especially when it contains lemongrass. However, if you don't have enough money to buy organic bug repellents, those you can find in drugstores are fine.Don't forget to spray your bug repellent on your face, your arms, and your legs. You can put some on your clothes as well.
Aloe vera gel
If you get a sunburn during your holidays, then you need to pack aloe vera gel as a beach beauty essential. Indeed, thanks to its soothing and repairing properties, aloe vera will accelerate the healing of your skin. Your sunburn will be soon a bad memory! However, to keep its properties intact, put your aloe vera gel in the fridge.
Sheet masks
Introduced by Korean beauty aficionados, sheet masks have become a staple in many women's skincare routine, including me! I especially enjoy sheet masks for their soothing and relaxin properties, while infusing active ingredients in your skin.
During your vacation, you can bring hydrating masks or vitamin C sheet masks to bring your inner glow to life. Satisfaction guaranteed!
Light makeup
If you're like me, wearing makeup during summer is out of question. However, this doesn't mean that you can't, especially if you go out at night. Always have a tinted moisturizer, eyeshadows, some mascara, and a lip gloss at hand. otherwise, for those who shun makeup during summertime like me, a well-moisturized skin and a lip balm will be your best adornment.
If you don't have a lip balm at hand, use petroleum jelly to treat your dry and chapped lips. It's cheap and effective!
Bonus: a hat and light-colored clothes
Always wear a hat to protect your hair and your skin from the sun. And if you have to visit a city, light-colored skin will help absorb the sun more easily. Thus, you need to favor colors like white, soft pink, light blue…well all the pastel colors. It's not a coincidence that pastel colors are called summer colors in colorimetry, but this is atopic for another article in this blog. So, stay tuned!
And a last tip: don't forget to wear sunglasses to protect your eyes from the sun!
Summary: what are the beauty travel essentials you need during your holidays?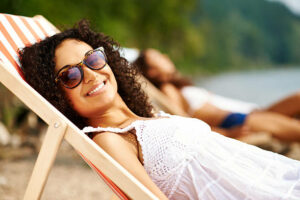 To conclude, here are the beauty travel essentials you need to bring during your summer holidays:
water inside out to keep you hydrated,
sunscreen to protect your skin from sun damage,
a hair oil to protect your hair from environmental damage,
a bug repellent to protect your skin from insect bites,
aloe vera gel to help you heal your potential sunburns,
sheet masks to soothe your skin,
light makeup for your evening whereabouts,
and appropriate clothes to protect you from the sun.
Well that's all for today! What do you think of my list of beauty travel essentials? In your opinion, what would you add to this list? Feel free to share in the comments!
Take care!
Click here to receive my free ebook on the 9 time-tested secrets to eternal youth.