Hello lovelies!
As summer goes by and is hotter than ever – at least here in Paris – , I decided to explore another celebrity's beauty secrets. And the one I chose will make sense to you as it was obvious to talk about her during this season.
Do you know who she might be?
Also known as "The Body" in the modeling industry, Elle Macpherson was the first woman to have graced the cover of Sports Illustrated five times. However, she is utterly interesting for one reason. Indeed, like Tina Turner, time doesn't seem to have any effect on her.
As she approaches her 60s, Elle Macpherson is more beautiful and radiant than ever. That's why I'm writing an article about Elle Macpherson's beauty secrets today. I just felt that we all needed to unlock some of her secrets, and perhaps, apply some of them in our daily routine.
Ready to discover Elle Macpherson's beauty secrets? Let's go!
Disclaimer: This post contains affiliate links. I may earn a commission whenever you click on the links and purchase the products, with no additional cost to you.
Her wellness matters above everything
"Beauty begins within" – Elle Macpherson
Like many women of this day and age, Elle Macpherson takes care about her inner balance. Consequently, she really pays attention to her morning and evening routine.
Also, she decided to incorporate her wellness routine into her beauty routine, because she wants to have a holistic approach of beauty. Now, this talks to me a lot because that's also my conception of beauty!
In the morning, Elle Macpherson rises at 5 am and starts her day with a meditation session. In the evening, she drinking soothing infusions to keep her calm after a busy day.
She also sleeps 7 hours per night and completely relaxes with scented candles before going to sleep. Her favorite aroma? Vetiver! She also enjoyed the smell of our incense as well.
Her passion for wellness even lead her to create her own supplements brand, WelleCo!
Moreover, Elle Macpherson became a sort of minimalist over the years. Indeed, she decided not to have lots of clothes and accessories to declutter her life to the maximum.
Elle's skincare routine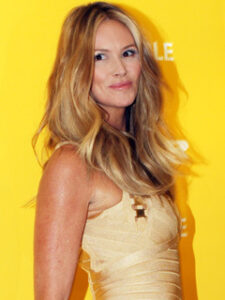 "I had no real skincare routine until I was 50 years old, so I guess that was a beauty rule broken! These days, of course, my wellness routine is my skincare routine, and I'm a lot kinder to my skin" – Elle Macpherson
When she worked as a model, Elle Macpherson didn't have a true skincare routine. She would arrive on the set and the makeup artists would prep her skin for her.
However, when she reached 50, she realized that skincare was extremely important for her. That's how she began to develop her own skincare routine, and she was very successful in doing it.
In the morning, Elle Macpherson starts her day with a splash of water on her face. Then, she skips the cleansing stage and directly applies a serum, a day cream, and an eye cream. In the evening, she washes her face with a foaming cleanser and moisturizes her skin with a night cream. Moreover, she enjoys vitamin C facials as they make her skin glow.
For her body, Elle Macpherson enjoys lymphatic massages to activate her blood circulation. She uses either a dry brush or a gua sha.
Usually, Elle Macpherson enjoys using brands developed by dermatologists, such as Do Sebagh or Dr Barbara Sturm. In particular, she currently uses Dr Barbara Sturm's Super Anti-Aging Serum and Super Anti-Aging Cream.
Elle's diet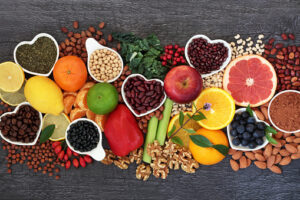 Elle Macpherson eats a clean plant-based diet. She starts her day by drinking her WelleCo Super Elixir which contains 45 ingredients to boost the immunity and alcalinize the body. Moreover, her diet consists in vegetarian meals built around vegetables, legumes, cereals, and grains. Also, she drinks three liters of water per day.
If she is hungry between her meals, she will prepare and drink a protein smoothie with her WelleCo Nourishing Plant Protein.
In addition, Elle Macpherson limits caffeine and alcohol from her diet, because of their harmful effects in the long run.
Elle's exercise routine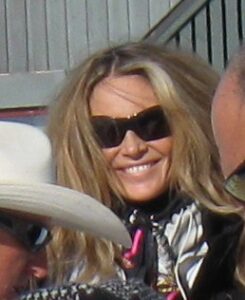 "Connection to nature and the fresh air tend to have a positive effect on our skin in terms of tone, color and texture". – Elle McPherson
Elle Macpherson grew up in Australia, where being active is highly encouraged. Therefore, she enjoys many outdoor activities: hiking, walking, skiing, surfing, and swimming.
If she can't exercise outdoors, she does her cardio 4 times a week. She especially enjoys boxing and interval training. She truly deserves her nickname "The Body"!
Elle's make-up routine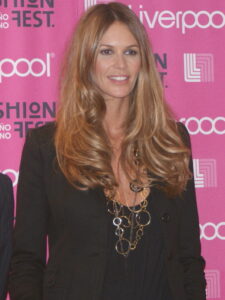 Elle Macpherson likes to wear a natural makeup. Generally, she wears a foundation or a tinted moisturizer, some blush, a Chanel eyeliner and a lip balm. She likes clean products from Westman Atelier, especially the Vital Skin Foundation.
Elle's hair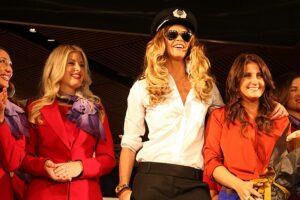 Elle Macpherson's hair is part of her signature look as a supermodel. Consequently, she takes great care of her look and abundant blonde locks. She uses Oribe shampoos and conditioners on her hair, and they perfectly work on her!
Elle's perfume
Elle Macpherson's favorite perfume is a man's fragrance! Indeed, she really likes Vetiver by Guerlain. Made around vetiver, tonka beans, nutmeg, and tobacco, this fragrance reflects the authentic elegance of the person who wears it.
It's very interesting that a woman who is so feminine chooses a masculine fragrance. Maybe it's because she loves vetiver so much…or is it a question of masculine and feminine energy balance? You decide!
Summary: what we can learn from Elle Macpherson's beauty secrets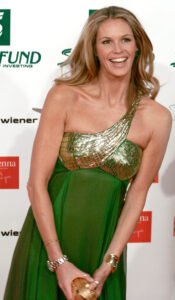 Does Elle Macpherson's beauty routine resonates in you? Then, you must follow the rules below:
boost your wellness at all costs,
follow a thorough skincare routine, even if you start in your 50s,
eat a clean diet,
exercise outdoors often,
wear a natural makeup,
take great care of your hair,
and wear a perfume of character.
Of course, Elle Macpherson also have a price tag. Not everyone has her beauty and wellness budget. However, you can apply some things at your level, like her exercise habits or the fact that she has a great skincare routine. And start from there!
Well, that's all for today! What do you think of Elle Macpherson's beauty secrets? Do you apply some of them in your daily routine? Feel free to share in the comments!
Take care!
Click here to receive my free ebook on the 9 time-tested secrets to eternal youth.