Hello lovelies!
I bet you religiously follow a healthy skincare routine that includes cleansing, toning, and moisturizing.
However, with the rise of social media, it seems that we have a daily new viral skincare trend…for better or for worse.
Indeed, not every trend is good for you. You must remember that keeping a healthy skincare routine can be effective and inexpensive at the same time.
Fortunately, the new year season gives you the opportunity to reassess what works for you and what doesn't. That's why we will review the 8 bad skincare habits you must ditch in 2023. Your skin will thank you!
Disclaimer: This post contains affiliate links. I may earn a commission whenever you click on the links and purchase the products, with no additional cost to you.
Exfoliating your skin in excess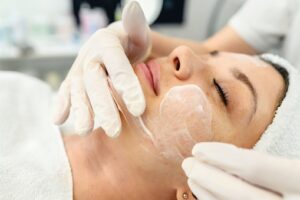 Yes, we all know that exfoliation gives you a clear and smooth skin as you get rid of dead skin cells. However, excessive exfoliation with harsh scrubs can lead to dark spots, hyperpigmentation, and scars.
And believe me: if you're a woman of color, it's worse because you'll have ugly black spots all over your body, and you'll look like a leopard. I know you don't want that.
Consequently, it's better to exfoliate once or twice a week with a mild scrub. Or you may even want to take an appointment with your dermatologist or your beautician to have microdermabrasion or mild chemical peels once a month.
Neglecting your neck, chest, hands, and feet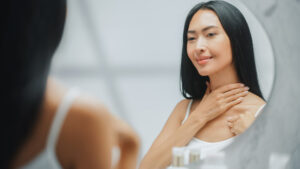 Many women tend to neglect to moisturize their necks, chests, hands, and feet. Unfortunately, these areas are the ones which show your age very quickly, especially if you don't take care of them very well.
But you have the opportunity to improve this situation in 2023. Here are some actions you may take:
moisturize your body immediately after shower
use sunscreen, moisturizers, and anti-aging creams on your neck, chest, hands, and feet regularly
use hand and foot crews to keep your hands and feet supple and soft
moisturize your hands immediately after washing them (or if you have been in contact with water)
N.B. For your hands and feet, you may use the Eight Hour Cream by Elizabeth Arden or The Egyptian Magic Balm. I guarantee you that the state of your hands and feet will be greatly improved after regular use.
Smoking and drinking too much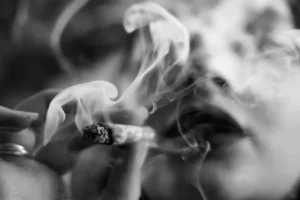 Those habits may seem glamorous, but unfortunately your skin will tell you otherwise. Alcohol damages your skin as it takes fluids from it. Moreover, it gives you more wrinkles and dehydration issues. Smoking also gives you a dull and grey skin, and causes the early formation of lines and wrinkles. If you want to keep a young look for a very long time, you know what you must do.
Not removing your make-up before sleeping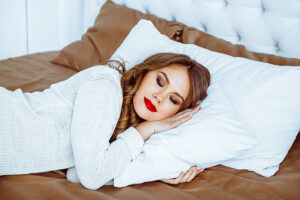 We've all been teenagers and we've all forgotten to remove our make-up at least once in our lives. But this is a bad skincare habit. Why? Though make-up improves you look and boosts your confidence, it's still unnatural for your skin. It may even clog your pores and it's not hygienic to sleep with it.
As a consequence, you must never sleep with your color cosmetics on. NEVER. Always remove it with a cleansing balm/oil or a mild remover. The, wash your face thoroughly with your usual cleanser before going to bed.
Not washing your make-up brushes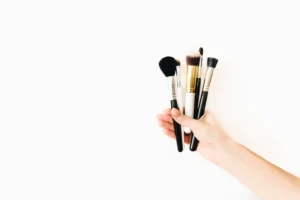 Make-up brushes are nests of germs and bacteria of all kinds. And they can be harmful for the beauty of your skin. That's why you must clean them regularly with warm water and a mild shampoo. Strive to wash them at least once a week, especially if you use them on a daily basis.
Jumping on every TikTok skincare trend 
Watching skincare trends on TikTok can be entertaining. However, it doesn't mean you must try everything influencers do on your own skin.
Let's take the example of skin cycling. This skincare practice enables you to rotate through your beauty products (retinol, moisturizer, and scrub) on specific days of the week. However, it does not fit everyone because it can be too harsh or not intense, depending on your skin type.
What's better to do is to have a simple skincare routine fitting your skin type. If you have any doubt, consult your dermatologist or your beautician.
Having expensive and complicated skincare routines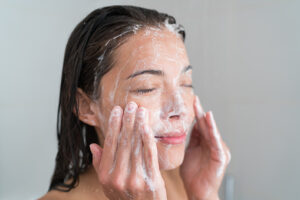 Do you think that expensive skincare routines are better? If this is your case, you're wrong at so many levels.
Using too many products can be damaging for your skin, especially if it's very sensitive. And expensive products are not necessarily the best ones. You may pay for the celebrity of a brand but not for the effectiveness of its products. Some drugstore brands and vegetable oils are more effective than the most expensive cream you'll find at Sephora.
What I suggest is to stick to products involving ingredients that have shown proven positive results: retinol, vitamin C, or SPF. As for cleansers and moisturizers, don't throw all your money on them.
Another tip I can give you is to pay attention to the benefits of the products – not to their price tag. I can tell you that my last haul didn't include any expensive product. But I'll talk about my haul in another dedicated post.
Trying dangerous DIY skincare treatments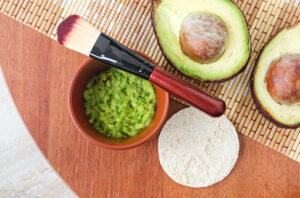 One day, I heard that one of the best TikTok skincare trend was the menstrual masking. And I just shook my head and asked the Lord: why???
I know it's a DIY attempt to replicate the "vampire facial" that was so trendy among celebrities, including Kim Kardashian. But while the "vampire facial" is actually made of platelet-rich plasma, menstrual blood has other components. And it's not designed to be a skincare treatment.
One piece of advice: just leave these trends alone and stick to the DIY classics!
Do you need skincare advice? Ask an expert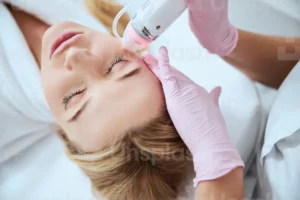 If you're unsure about the skincare routine you need to follow, consult your dermatologist or your beautician. They are actually trained to give you the best advice adapted to your skin type. Though experimenting with new skincare products may be fun, you must take your skincare routine very seriously. Especially if you're subject to skin conditions, such as rosacea, eczema, or acne.
In conclusion, in 2023, you must ditch the following habits:
over exfoliating your skin
neglecting your neck, chest, hands, and feet
smoking and drinking too much
not removing your make-up before bedtime
not washing your make-up brushes
jumping on every TikTok skincare trend
having expensive and complicated skincare routines
trying dangerous DIY skincare treatments
Well, that's all for today! What other bad skincare habits do you plan to ditch in 2023? Leave your comments below!
Take care!
Click here to receive my free ebook on the 9 time-tested secrets to eternal youth.