Hello lovelies!
During the holidays, you must have eaten everything you wanted. And I bet you forgot your usual diet during these times.
But now that the holidays are over, you must be afraid to get on the scale. Why? Because you must pay the consequences of your Christmas and New Year's Eve excesses!
Fortunately, you're not helpless. Indeed, there is one solution for you: DETOX!
There are effective ways to detoxify your body naturally. And you can do it without pills or expensive supplements. However, you must be disciplined and implement them on a regular basis. Let's discover them below.
Disclaimer: This post contains affiliate links. I may earn a commission whenever you click on the links and purchase the products, with no additional cost to you.
Why is it important to detoxify your body?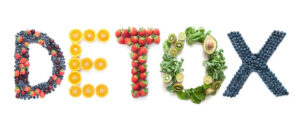 Detoxification is the process of cleansing and nourishing your body by eliminating waste. It is very important for the liver which has nearly 500 functions. These functions include:
detoxification
digestion
nutrient absorption
metabolism increase
preservation of cardiovascular health.
Therefore, keeping your liver in an optimal condition is essential. If you want a total reboot of you health and vitality, detoxification is the way to go.
What are the benefits of detoxification for your body?
Here are some benefits of detoxification for your body:
easier weight loss
increased energy
joint pain relief
improved digestion
boosted immunity
reduced cravings
stabilized mood
clearer skin
improved sleep
sharper mind and attention span
How to detoxify your body effectively?
I will share with you some tips that will enable you to detoxify your body naturally, in the most effective way. You may adapt them to your own personal situation. If you have any health issue, please consult your doctor.
Avoid caffeine
If you are a coffee or Diet Coke lover, I have bad news for you.
Indeed, caffeine interferes with the normal process of detoxification in your body. Why? Because they disturb the functioning of the liver. In this context, you'd rather avoid caffeine altogether.
However, if you're not ready to give up caffeine, you can limit its absorption in your body. Ditch your daily coffee cup and replace it with a cup of matcha tea/green tea.
Avoid packaged foods and beverages
Packaged foods and beverages contain lots of preservatives, added sugar, flavor enhancers, and coloring agents. All these unnatural elements hinder the normal detoxification of your body. Thus, they have a negative impact on your overall health.
If you want to recover your health, stick to natural fruit and vegetable juices. With New Year's resolutions, it's time to buy a juicer!
Avoid alcohol
Alcoholic beverages are other empty drinks that sabotage the normal functioning of your liver, especially in its detoxification function.
Actually, drinking alcohol in excess increases the build up of fat in your system. Thus, alcohol causes inflammation and all kinds of ailments in your body. Cut alcohol from your daily diet and limit it for special occasions.
Exercise more often
As you all know, exercise is excellent to maintain your health. For instance, Hippocrates already prescribed exercise as a way to maintain good health and one's normal weight.
Obviously, exercise makes you sweat. Thus, it helps you to eliminate waste from your body. Also, exercise reduces the risk of several diseases, such as diabetes, high blood pressure, or heart attacks.
Whether you walk, run, swim, dance, or bike, just start today! Implement at least 30 minutes of exercise in your daily whereabouts. And start seeing the change in your body.
Get adequate sleep
Getting enough sleep is key to detoxify your body and your mind as well. Indeed, when you sleep, your brain flushes out toxins accumulated during the day.
In addition, getting enough sleep helps you with weight loss. Consequently, you mustn't neglect your sleep hours. Get at least 6 to 9 hours of sleep every night to detoxify your body effectively.
Include probiotics in your diet
Probiotics are good bacteria helping with your digestive issues. Also, they cleanse your digestive tracts. As a consequence, they are very recommended in any detoxification process.
Do you want to add them in your daily diet? Then, eat some greek yoghurt or curd everyday. In addition, you may take probiotics supplements if you are allergic to dairy products.
Purify your body with water
Did you know that water helps you to stay hydrated? As our bodies are made of 70% water, we need it to produce saliva and to remove waste. Also, water is helpful for digestion, nutrient absorption, and perspiration.
To detoxify your body, drink 8 to 12 glasses of water everyday.
Consume more fruits and vegetables
Eating the right foods is extremely helpful if you want to detoxify your body. Thus, you can eat foods rich in vitamins and minerals to cleanse your body from toxins.
Consequently, fruits and vegetables can benefit you in this context. Aim at eating 5 to 9 fruits and vegetables on a daily basis.
Drink detoxifying beverages
Detoxifying beverages ahem the potential to flush out toxins from your body. Here are the most effective beverages that you can drink at home:
start your day with a glass of warm water with lemon juice before breakfast
drink cinnamon tea with a teaspoon of honey
drink fenugreek tea before bedtime
All these drinks will help you to boost your metabolism and eliminate waste from your body. Just start drinking them today!
Examples of detox menus
Example #1: 7-day vintage detox menu
This 7-day detox menu is taken from Gayelord Hauser's New Treasury of Secrets:
Breakfast: a glass of fruit juice (orange, pineapple, grapefruit) and a cup of herbal tea
Midmorning: a cup of yoghurt+celery or carrot sticks or a glass of vegetable juice
Lunch: a bowl of vegetable broth, a fresh fruit or vegetable salad, a cup of hot tea with lemon
Midafternoon: a glass of fruit or vegetable juice
Dinner: a bowl of vegetable broth, one short-cooked vegetable, a fresh green salad, and a cup of herbal tea
Before bedtime: a 20-minute warm bath and a mild herbal laxative
Example #2: 14-day detox menu
This detox menu is the first phase of the New Fat Flush Plan by Ann Louise Gittleman:
Upon arising: a cup of cran-water (cranberry juice diluted in water) mixed with ground flaxseeds
Breakfast: a glass of warm water with lemon juice, a smoothie or eggs and vegetables
Midmorning: a fruit, a light protein, or vegetables
Lunch: vegetables+light protein
Midafternoon: a fruit, a light protein, or vegetables
Dinner: vegetables+light protein
Before bedtime: a cup of cran-water (cranberry juice diluted in water) mixed with ground flaxseeds
In addition, drink 2 liters of cran-water during the day.
In conclusion, detoxifying your body naturally involves the adoption of healthy habits:
getting proper sleep
eating healthy foods
drinking more water
avoiding toxic chemicals
That's it for today! Do you have another habit that helps you to detoxify your body naturally? Share it in the comments!
Take care!
Click here to receive my free ebook on the 9 time-tested secrets to eternal youth.
Go further with this topic:
New Treasury of Secrets by Gayelord Hauser
The New Fat Flush Plan by Ann Louise Gittleman