Hello lovelies!
Some people seem to struggle to have great skin, while some seem to be born with it. Isn't life unfair?
Indeed, every time we open a magazine or we scroll across social media, we see women with great skin all around. And if you are in a position where you're not comfortable in your own skin, you can easily be discouraged.
If you are in this position, you must know that having a great skin is not impossible. Actually, it's even easily achievable in the long run. And no, I'm not talking about adding filters on your social media pictures.
Rather, I'm talking about the five main habits of people with great skin, that are open secrets. Are you ready to listen to them? You won't regret it!
Hydrate your skin inside out
Great skin starts from within. Consequently, when you hear many celebrities saying that they owe their great skin to their water intake, they're not entirely wrong.
Indeed, water hydrates your body while flushing it from toxins. Moreover, if you rely mostly on sodas rather than water, you skin tends to lose its elasticity in the long run. Therefore, water is the best solution to get a heathy and glowing skin.
Don't hesitate to drink your 2 liters (64 oz) of water anymore to reap its benefits for your skin. And there's more good news: it's one of the cheapest beauty secret in this article!
Besides water, you must also moisturize your skin with your favorite cream. Indeed, a good moisturizer is key to protect your skin's natural oils. Also, it is an effective barrier to shield you from environmental elements.
However, you must choose the appropriate moisturizer for your skin type. In addition, you must carefully choose the active ingredients that will help you reach the glow of your dreams.
For instance, retinol is great to combat acne and premature wrinkles, while boosting collagen. But it's photosensitive, so you may use more during your nighttime routine. On the other hand, antioxidants (vitamins A/C/E) and omega-3 fatty acids repair your skin from sun damage and boost your radiance.
There are many ingredients that will help your skin to be flawless, healthy, and radiant. If you want to get more information for your personal case, ask your dermatologist or your beautician.
Protect your skin at all costs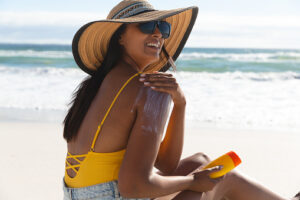 We all know that we need sun exposure to synthesize vitamin D in our body. Therefore, sun is our best friend, right? Well, you're wrong. According to the American Cancer Society, reckless exposure to UV rays can cause premature aging of the skin. Also, it can even cause more skin damage, such as:
leathery skin
dark spots
hyperpigmentation
sunburn…
For all these reasons, you must absolutely adopt sunscreen in your daily beauty routine. And the sooner, the better. It will act as a protection from unwanted sun damage and from premature aging. According to the Skin Cancer Foundation, you must choose sunscreen that is water-resistant with SPF 30 minimum. This is the best choice as it must stay on your skin all day.
Do you hesitate on the sunscreen to choose? Then, you may find the appropriate protection in moisturizers, foundations, and powders. Just keep in mind that you must protect your skin from the sun and the appropriate solution for you will appear!
Eat a balanced diet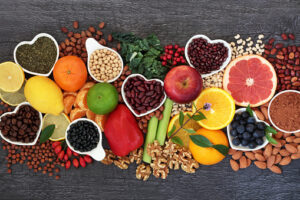 Have you ever heard the saying: "you are what you eat"? Well, you must also know that you skin is a direct reflection of what you eat. Besides water, eating the right foods can do wonders for your skin. Eat a balanced diet with natural foods: fruits, vegetables, healthy fats, whole grains, and proteins. You can find the right foods for your skin in my previous post here.
However, there are also foods to avoid I you want great skin. Sugar is one of them, as it is inflammatory. And if you're a fan of deli, you may eat them from time to time.
Get your beauty sleep
What if Sleeping Beauty owed her radiance to so many years of sleep? Indeed, sleep is an underrated yet powerful secret you can add to your beauty routine. But why is sleep so important?
According to many experts, sleep is important because of the production of melatonin induced in the evening. This hormone makes us feel sleepy and boosts the blood flow in our skin while we sleep. It's also responsible for restoring our collagen levels. If your skin looks healthy and rested when you wake up, you know that melatonin did its job!
On the contrary, improper sleep makes us appear tired and dull, while having several negative effects on our immune system. Indeed, lack of sleep contributes to skin issues, such as:
redness
dark circles around your eyes
puffy and red eyes
deep wrinkles
saggy skin
The only solution is to get your 7 to 9 hours of sleep every night. Don't be a night owl as I used to be because I wanted to have a great career. It will damage your skin in the long run.
Also, there's more: you must sleep on your back to avoid wrinkles. That's a beauty secret I learnt from a famous French royal mistress during the Renaissance era. I will talk about her in a future post, so shhh…But can you guess her name? Tell me in the comments!
Adopt a strict beauty routine
Did you know that great skin was the result of self-discipline? If you want to obtain the best results, you need to go through a daily beauty process. You must know that great skin doesn't appear overnight, it is cultivated. I've read somewhere that a new habit took at least 22 days to form. Therefore, you must religiously adopt the following beauty habits:
cleanse, tone, and moisturize twice a day – and don't skip these steps
remove your makeup every night before going to bed
exercise every day
adopt a beauty routine depending on your skin type
avoid popping your pimples
rely on natural products whenever you can
take the right supplements daily when necessary
If you follow these beauty rules, you will see the results quite fast: a healthy, glowing, and radiant skin!
Bonus: Don't smoke!
I know you're an adult and you don't need to be lectured on the dangers of smoking. Don't worry, I'm completely aware of that. However, I must expose what are the costs of smoking on your skin, beauty, and overall health.
Indeed, smoking deprives your body of oxygen and other nutrients. Therefore, the results of smoking are:
a dull and unhealthy skin
a pale skin
an uneven color of skin tone
premature wrinkles
And concerning premature aging due to smoking, I have trivia to share. I have an aunt who was very beautiful as a young woman. But she was a heavy smoker, and despite the opinion of my grandfather and her husband, she continues to smoke.
As you all know, some say that "black don't crack". Well, this wasn't true for my aunt. At 50, she was already cracking all over the place, when her cousins and sisters still appeared young for their age. The moral of the story:   don't start smoking. And if you do, find the courage to stop.
Summary: great skin is not born, it is made
Finally, the habits of people with great skin are not unattainable. However, you need to implement them in your daily routine to see effective results. These habits are:
daily hydrating your skin inside out
protecting your skin through sunscreen
eating a balanced diet
getting proper sleep
adopting a strict beauty routine
And if you could stay away from toxic habits such as smoking, this would be extra wonderful for your skin!
Well, that's for today! What do you think of these five habits of people with great skin? Have you implemented them in your daily routine? Please share in the comments below!
Take care!
Click here to receive my free ebook on the 9 time-tested secrets to eternal youth.