Do you want a vibrant health for good?
Are you craving for longevity and a stable weight without following all the latest fads?
If this is your case, then I have good news for you. Because there's a diet pattern that will give you exactly what you need.
And that's the Mediterranean Diet. Chosen as the best diet in the world in 2023, the Mediterranean Diet has won more and more followers over the years. And this trend shows no signs of abetting.
If you are interested in following this diet, you have knocked at the right door! In this article, I will show everything you need to know about the Mediterranean diet.
Disclaimer: This post contains affiliate links to help me support this blog. I may earn a commission whenever you click on the links and purchase the products, with no additional cost to you. Thanks in advance for your support!
What is the Mediterranean Diet?
Created in the 1960s, the Mediterranean Diet took its inspiration from traditional eating habits of populations living in Spain, Southern Italy, and Greece (especially Crete). This diet advocates eating lots of vegetables, fruits, cereals, dairy products, and legumes. However, in this diet, meats are not very popular!
The Mediterranean Diet results from a study carried out in the 1950s carried out by an American doctor called Ancel Keys. While studying the populations of Calabria and Cilento, he highlighted the link between their diet habits and the lower rate of cardiovascular diseases.
Moreover, in 1990, the French doctor called Serge Reynaud underlined the "French paradox". In his study, he also highlighted the  links between the Mediterranean diet rich in healthy fats, and the lower rate of cardiovascular diseases in Southern France.
In 2010, the Mediterranean Diet was inscribed on UNESCO's Representative List of the Intangible Cultural Heritage of Humanity. Indeed, this diet is more than a series of dietary practices. Actually, it's a true lifestyle representing a body of savoir-faire, knowledge, practices, and traditions.
What are the benefits of the Mediterranean Diet?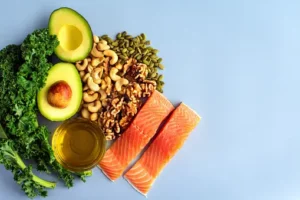 According to many studies, the Mediterranean Diet has many benefits. Indeed, it:
increases longevity and life span
lowers the rate of cardiovascular diseases
protects children against asthma and allergies
increases the success rate of IVF
facilitates weight loss
reduces the risk of neurological diseases such as Alzheimer's disease
increases physical fitness
What are the foods to eat in the Mediterranean Diet?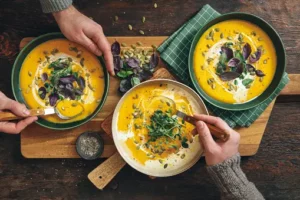 In the Mediterranean Diet, there's no real forbidden foods. Here are the foods you must favor and avoid.
Eat daily:
vegetables
fruits
dairy products (e.g. Greek yoghurt, feta, goat cheese)
whole cereals (e.g. bread, rice, pasta, bulgur…)
a handful of dried fruits (almonds, walnuts…)
garlic, onions, spices, and herbs
olive oil: 2 to 3 tablespoons per day
drink water and unsweetened herbal teas
red wine: one to two glasses per day maximum
Eat weekly:
legumes (lentils, beans): twice a week
fish and seafood: three times a week
eggs: up to five times a week
Eat sparingly:
poultry
red meats
deserts
Foods to avoid:
processed foods
refined oils
unnatural sugar
sodas
Do you want to have a full summary of what you can or cannot eat in the Mediterranean diet, Then, check out the Mediterranean Diet pyramid. This will summarize your new eating habits from now on.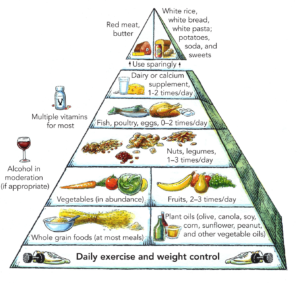 Examples of Mediterranean Diet menus
Mediterranean Diet menu #1
Breakfast: wholemeal bread and olive oil + sheep's milk yoghurt with honey + 1 orange
Lunch: tomatoes with olive oil, garlic, and basil + wild rice with baby vegetables + chickpeas with coriander + fruit salad with cinnamon
Dinner: grilled peppers in olive oil + sardines + wholemeal bread + 1 glass of red win
Mediterranean Diet menu #2
Breakfast: muesli with hazelnuts, fresh fruit and sheep's yoghurt + sugar-free tea or coffee (or sweetened with honey or stevia)
Lunch: a large green salad with walnuts, tuna, sun-dried tomatoes seasoned with olive oil and lemon juice + a slice of seasonal vegetable pie + a piece of goat's cheese with a piece of bread + 1 glass of red wine and/or water
Dinner: rice salad with peppers, onions, corn, tomatoes, tuna, seasoned with olive oil + fried green beans and mushrooms + 2 kiwis + a piece of bread with goat's cheese + 1 glass of red wine and/or water
Summary: why you should try the Mediterranean Diet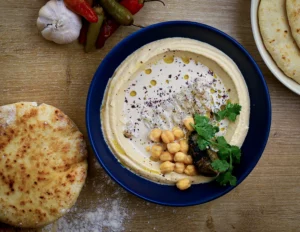 The Mediterranean Diet is a wonderful diet if you want to create healthy living habits without following a fad. And if you add moderate exercise, and eating with your family, you will have a long and great life!
However, if you are allergic to dairy products of animal sources, you can replace dairy by milk alternatives. For instance, you can use coconut and/or almond milk.
Resources about the Mediterranean Diet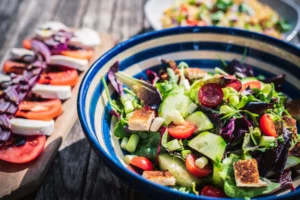 If you're a beginner who want to start the Mediterranean Diet, here are some useful resources for you:
Discovering the Mediterranean Diet by Alice Auster
Mediterranean Diet Cookbook for Beginners by Luisa Florence
The Complete Mediterranean Cookbook by America's Test Kitchen
Moreover, you can follow the account of @mediterraneandietmeal of Instagram. Indeed, they publish easy and delicious recipes that you reproduce at home!
Well, that's it for today! What do you think of the Mediterranean Diet? Have you tried this diet? What do you think? Share your thoughts in the comments!
Take care!
Click here to receive my free ebook on the 9 time-tested secrets to eternal youth.