Hello lovelies!
Do you remember my last post on Ancient Egypt's beauty secrets? Well, today, I'm going to share the beauty secrets of one of their greatest queens: Cleopatra!
When you hear Cleopatra's name, you think of a femme fatale…
A divine seductress…
Or even of an exotic capricious queen.
But she was actually more than that. Despite being called regina meretrix (whore queen) by Latin authors, Queen Cleopatra was a force to be reckoned with. And I am showing this today in this article.
Let's discover Queen Cleopatra's beauty secrets!
Disclaimer: This post contains affiliate links to help me support this blog. I may earn a commission whenever you click on the links and purchase the products, with no additional cost to you. Thanks in advance for your support!
Who is Queen Cleopatra?
Birth & family
Who doesn't know Cleopatra? She has become so legendary that we sometimes forget that she is the seventh of a lineage of women named Cleopatra. She was born in 69 BC in Alexandria, being the daughter of Ptolemy XII. However, we don't know who her mother was.
Some historians believe that she was the daughter of his father's sister-wife. Indeed, Pharaohs often married their sisters to keep a pure bloodline. Some say she was probably the daughter of an Egyptian concubine and that she was probably biracial.
Education & marriages
Cleopatra received an excellent education. Indeed, she was interested in many fields: literature, mathematics, astronomy, medicine, and of course politics. She was very intelligent and was fluent in nine languages. Actually, she was the first and the last queen of the Ptolemaic dynasty to be fluent in the original Egyptian language. This made her closer to her subjects.
Well, anyway, she became queen after her father's death. But according to pharaonic customs, she had to marry her two brothers. Thus, she secured her access to the throne. Nevertheless, she managed to get rid of her brothers later.
To keep Egypt independent, she had long-lasting affairs with two of the most famous Roman leaders:
Julius Caesar with whom she had a son, Ptolemy Caesar
Mark Antony, father of her three last children: twins Alexander Helios and Cleopatra Selene, and Ptolemy Philadephus.
Peak and demise
She also had a bigger dream for Egypt. Actually, she wanted to  rebuild the lost empire of Alexander the Great.  Consequently, she leaned on both Caesar and Mark Anthony to do so. Unfortunately, she couldn't fulfill it because of Octavianus.
As Caesar's adoptive son and heir, he declared war on her after the Donations of Alexandria.  During this event, Antony supposedly donated the Eastern provinces of the Roman Empire to Cleopatra's children.
Antony and Cleopatra were defeated at Actium. As a result, she killed herself in 30 BC. She wanted to prevent being exposed like a war trophy during Octavianus' triumph.
Her death remains a mystery. Was it poison or a snake's bite? Historians are still debating on this. However, it's true that a death by snake's bite is more romantic. Indeed, Ancient Egyptians believed that snake bites would provide immortality. Her grave has never been found to this day.
Nevertheless, in 2022, some archaeologists believed they found her grave in Alexandria. I'm seriously following this topic.
Queen Cleopatra's physical appearance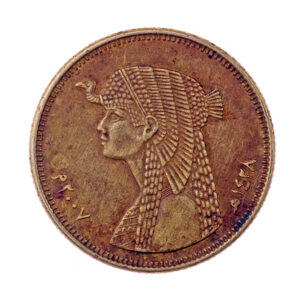 Nowadays, Cleopatra's name is synonymous of seduction, as well as exotic beauty. She is the personified femme fatale. Many astonishingly beautiful woman played her on the silver screen: Elizabeth Taylor, Leonor Varela, or Monica Bellucci…
However, we don't exactly know how Cleopatra looked like. Blond? Brown? Biracial? Cleopatra's physical appearance has even become a controversial topic when the documentary Cleopatra on Netflix represented her as a biracial woman…
Well, you might be disappointed! Actually, during her lifetime, Roman historical authors didn't find her attractive. Actually, they even suggest that she wasn't that beautiful. But they reported that she was charming and charismatic. She had many other qualities that participated in her attractiveness:
a beautiful conversation,
her extreme intelligence,
a melodious voice,
her mastery of the art of beauty and adornment
If you see the coins which depict her, she has a crooked nose and does not appear to be a beauty prize. Well, let's say that she was beautiful in her own way…
All Cleopatra's beauty secrets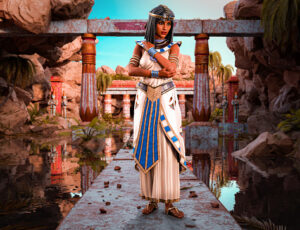 As we already saw above, Cleopatra was a very intelligent woman. She mastered a lot of fields, including chemistry and the art of beauty. Most of her beauty recipes include many natural ingredients that you can get very easily, even in your kitchen.
Let's dive deep into Cleopatra's natural beauty secrets!
Cleopatra's beauty secrets: her face
For her face, Cleopatra used ingredients known for their nourishing, exfoliating and moisturizing properties. They helped her to keep her face clean and smooth.
She washed her face with a mix of oatmeal and warm water. Then, she rinsed her face with apple cider vinegar diluted in warm water. She used rose water as a facial toner. For her face cream, she mixed aloe vera, beeswax, almond oil and rose oil.
Cleopatra was fond of facials. Her most renowned face mask involves white clay, ass milk, honey and olive oil. However, she also used a mask made of mashed grapes and honey to fight against sun damage and sun burn. Don't forget that it was really hot in Egypt!
Cleopatra probably knew that the sun could be harmful for the youth of her skin. In that matter, she was quite ahead of her times.
To fight puffy eyes, Cleopatra used a mask of mashed celery and hemp. She would put it around her eyes and tada! A fresh face with bright eyes…isn't that wonderful?
Cleopatra's beauty secrets: her body
Who doesn't know her famous donkey milk and honey bath? Since Hippocrates, donkey milk had been a universal natural remedy. Moreover, it has anti-aging and moisturizing properties. Honey is a natural antiseptic and has healing properties as well.
Throughout centuries, many elegant women copied this recipe to emulate Cleopatra. Among them, we can quote:
Sabina Poppaea, Nero's second wife
Agnes Sorel
Diane de Poitiers
Josephine de Beauharnais
Madame Tallien…
However, we know less about the real ingredients of her bath. If she put ass milk, honey, aloe juice and Dead Sea salts in her bath. However, she also had a secret ingredient to fight wrinkles and to enhance her skin's smoothness. And this is…crocodile's excrement!
Suddenly, It sounds less glamorous, doesn't it? Ancient Egyptians used crocodile's excrement as the go-to beauty treatment to have a youthful skin.
To exfoliate her body and keep her skin smooth, her servants used Dead Sea salts with olive oil. However, during my research, I found another beauty ritual of hers. Actually, Cleopatra's servants also massaged her with sesame and olive oil. Then, they scraped her skin with an instrument called stirgil to get rid of excess oil and dead skin.
The result? The smoothest skin that ever existed! Like many rich Egyptian women, Cleopatra also used almond oil and black seed oil daily to moisturize her body.
Cleopatra's beauty secrets: her hair
Queen Cleopatra sported wigs for her public appearances . However, she also favored Greek hairstyles which required the use of her natural hair. Therefore, the beauty and the health of her hair were a true concern of hers.
To keep her hair shiny, she washed her hair with… eggs! Indeed, eggs are rich in protein. Also, they help keeping the protein structure of hair without stripping it from moisture. However, we don't know how many times a week she washed her hair…
Cleopatra was a huge fan of hot oil treatment for her hair. She used castor oil, already renowned in Ancient Egypt for its fortifying properties on hair. She mixed it with honey to make a homemade hair mask. In addition, she massaged myrtle oil and black seed oil onto her hair and scalp to grow her hair.
Queen Cleopatra's beauty trivia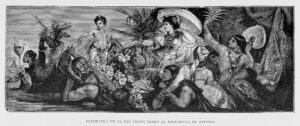 Cleopatra supposedly wrote a treaty on cosmetics entitled Kosmetikon, where she listed all her beauty and medical recipes. Unfortunately, archaeologists found only some fragments of this document. It's a pity…
Some specialists also claim that Cleopatra never took donkey milk baths. It was probably Emperor Nero's wife, Poppaea, who started the trend, much later after Cleopatra's death.
A Ukrainian doctor named Adrian Baraniecki attributed milk baths to Cleopatra. This was a marketing stunt to encourage milk baths. He used Cleopatra because she was an intelligent and powerful woman. On the contrary, Poppaea was perceived as frivolous and maleficient. She was bad for his business!
Recipes inspired by Queen Cleopatra
Do you know what is striking in Cleopatra's natural beauty secrets? You can use ingredients coming straight from your kitchen! However, I don't personally recommend crocodile's excrement…
Cleopatra's face serum
However, I will share with you a recipe inspired by Queen Cleopatra's natural beauty secrets. I found in a vintage book written by Dr. Gayelord Hauser. It's a blend of repairing oils that you can use on your face as a night treatment. Also, you can also use it to nourish dry scalps.
Cleopatra's Formula (Source: Gayelord Hauser, New Treasury of Secrets):
3 tbsp safflower oil
2 tbsp sunflower oil
3 tbsp sesame oil
2 tbsp avocado oil
1 tbsp olive oil
2 tbsp peanut oil
1 tbsp wheat germ oil
5 drops oil of rose geranium
Put 7 drops of this oil on your face and neck every night before bed.
Cleopatra's decadent & luxurious bath
Moreover, if you want to have a milk and honey bath like Cleopatra, I must warn you that donkey milk is not easily available. Actually, you might find dehydrated donkey milk but it's quite expensive.
Therefore, you can replace donkey milk with powdered cow milk or goat milk, provided you take whole milk. Indeed, they contain more fats and alpha hydroxy acids which have nourishing and anti-aging properties for the skin.
Here is a recipe inspired by Cleopatra for your bath: blend 3 tablespoons of honey and 3 drops of rose essential oil in 2 cups of whole cow milk. Put this in your bath and add 2 handfuls of Dead Sea salt or Epsom salt. Then, relax and enjoy your bath!
Cleopatra's natural egg shampoo
As for your hair, you can use 2 or 3 egg yolks mixed with 1 tablespoon of olive oil as a natural shampoo. Massage it on damp hair and let it sit one minute on your hair. Then, rinse thoroughly with cool or warm  water.
Warning: please don't use hot water with this recipe. Otherwise, you'll have an omelet on your hair and you don't want that!
Follow by a hair rinse made of 3 tablespoons of apple cider vinegar diluted in 3 cups of water. I tried this routine myself here and there (I have Afro hair) and I can testify that it's very effective!
What we can learn from Queen Cleopatra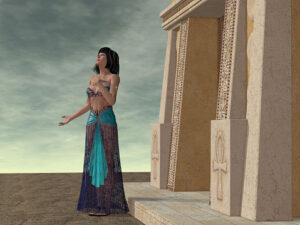 "There are no ugly women – only women who don't care or don't believe they're attractive"

Estée Lauder
Cleopatra is the living proof that beauty is first an attitude. Though not classically beautiful, she managed to seduce the two most powerful men of her time.
What we need is to be disciplined about our appearance everyday. We should strive to be our best and to present well. Also, we shouldn't neglect our internal beauty. Intelligence, charm, and wit also participate in your beauty.
Don't think you're not beautiful anymore. Believe you're beautiful and be disciplined. Believe me, beauty will come to you as a reward. Just like Cleopatra!
Well, that's all for today! What do you think about Queen Cleopatra's beauty secrets? Do you use them in your beauty routine? Share your thoughts in the comments!
Take care!
Click here to receive my free ebook on the 9 time-tested secrets to eternal youth.