Hello lovelies!
When I was a teenager, my mother used to tell me that my hands were one of the first things people looked at. This taught me very early the importance of taking care of my hands, feet and nails.
Unfortunately, my mother didn't take enough time to teach me how to take care of my nails. I had to make my own research, with some trials and errors here and there. But this was very beneficial for me.
Because now, I can have my own manicure and pedicure at home. And I don't have to spend lots of money at the nail salon because I can take care of myself.
If you have been in my situation, you must know that your case is not desperate. Some of us go to the nail salon to get their nails done. And that's fine. But if you lack time or money, don't worry!  All you need is to follow some steps and techniques religiously.
Read below to learn more about my beginner's guide to nail care!
The benefits of a regular nail care routine
Did you know that your nails are a reflection of your health? For instance, brittle nails indicate thyroid malfunctions, while pale nails might be a sign of anemia or poisoning. Consequently, taking great care of your nails, as well as your health, is essential.
Having a regular nail care routine offers several benefits:
Prevents nail infections and bacteria
Boosts blood circulation
Smoothes your nails and your hands' skin
Gets rid of callouses
Increases your self-confidence and overall presentation
6 steps to build your weekly nail care routine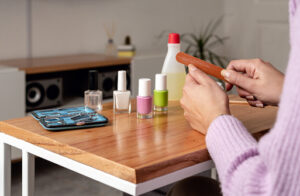 Getting beautiful nails just doesn't happen to you. You need to take action! To get healthy nails, you must follow some best practices that I'm about to share with you. Healthy nails have never been so easy to achieve.
Step #1: Start with clean nails
According to the American Academy of Dermatology Association, having clean nails is an essential step to follow for healthy nails. Consequently, you must always remove your old nail polish and wash your nails. I recommend you use an acetone-free remover as it is less aggressive.
Then, soak your nails in warm water with soap during few minutes. Then, proceed to brush your nails to get rid of the dirt and to scrub your nails.
This step will help you to get rid of all the chemicals, and to prep your nails for the nail polish to stick longer.
Step #2: Trim your nails
In this specific step, trimming your nails is essential, especially for your toes. You can use a clipper to help control your nail length, and your nails will have a nice and groomed appearance.
Also, cut your toenails straight to avoid ingrowth nails. Concerning your fingernails, you can cut your nails straight and let your corners slightly rounded.
Step #3: File your nails
If you opted to trim your nails, filing is your 3rd step. But if you didn't cut your nails, you can forget that step and come directly to the current one.
Filing your nails will enable you to smoothen your rough edges. Moreover, it can help you shape your nails. Choosing the right shape for your nails will prevent them from breaking. That's why you must choose a shape that works for you, your nail length, and your daily routine.
How do you file your nails properly? You should file in one direction, starting from one side and going to the center. Then, from the center, file to the other side.
Step #4: Treat your cuticles
Your cuticles must be kept under control. However, you shouldn't cut them because they protect your nails from infections and bacteria. Massage your cuticles with oil, then push them back with wooden cuticle softener. Don't cut your cuticles, unless you have your nails done by a professional.
If you can't buy a special cuticle oil, you can use olive oil or coconut oil instead. Those oils are excellent to moisturize your cuticles while strengthening your nails.
Step #5: Paint your nails
Once your cuticles are moisturized, you can paint your nails with the shade of your choice. However, before you paint your nails, you must remove all the residue of oil on your nails. Thus, your nail polish will last longer.
You shouldn't use nail polish every time on your nails. Let your nails breathe between nail polish applications. With all the chemicals inside your nail polish, your nails can end up damaged. I would advise you apply nail polish every other week.
To paint your nails, you can choose a shade that works with your lifestyle, your skin tone, or with the current trends. Just let your creativity flow!
Here are the steps to paint your nails:
start with a layer of base coat to protect your nails from potential stains
then, apply one to two layers of your favorite nail polish
finish with a top coat to add shine and seal your nail polish. Thus, your nail polish won't fade and chip easily!
Also, always wait each layer to dry before starting with the following step.
Step #6: Moisturize your hands
Once your nail polish is dry, don't forget to moisturize your hands. They will be soft and smooth. Also, hands are the first body part that shows your real age; so that's another reason to moisturize them often. I would advise you moisturize your hands after you had contact with water, and before going to bed.
Summary: what every beginner should do to have healthy nails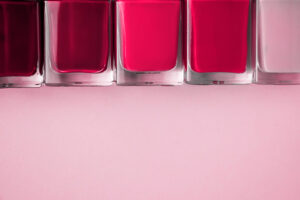 In a few words, having healthy nails is something that you must pursue on a daily basis, not only for your beauty but also for your health. Indeed, your nails are one of these body parts that show your medical condition quickly, so you must pay great care of them.
Here are the basics for a beginner's nail care routine:
keep your nails clean
trim your nails
file your nails
take care of your cuticles
apply your nail polish
moisturize your hands
Well, that's it for today! What do you think of my ultimate beginner's guide for nail care? Do you apply these steps in your nail care routine? Share in the comments!
Take care!
Click here to receive my free ebook on the 9 time-tested secrets to eternal youth.