Hello lovelies!
Some months ago, I wrote an article featuring a complete makeup tutorial for beginners. Well, I must say that it was entirely inspired by a book that I'm reviewing today.
Indeed, the Bobbi Brown Makeup Manual is a classic for every person interested in makeup. And this applies to people who want to make a trade from it, or are just passionate about it. But is it worth it?
Personally, I've been introduced to this book by reading a blog about elegance. Unfortunately, the website doesn't exist anymore. The blogger relied on this book to craft elegant make-up for herself. And I decided to take it for myself, though I'm black and the blogger was Asian. And I was positively surprised!
But without further ado, here is my Bobbi Brown Makeup Manual review!
Disclaimer: This post contains affiliate links to help me support this blog. I may earn a commission whenever you click on the links and purchase the products, with no additional cost to you. Thanks in advance for your support!
Who is Bobbi Brown?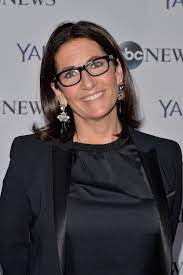 Bobbi Brown is an American professional make-up artist who founded Bobbi Brown Cosmetics in 1991. Also, she was a major innovator in the beauty industry when she created ten natural shades of lipsticks. Therefore, every woman could have her nude shade of lipstick, whatever her skin color.
Later, she sold Bobbi Brown Cosmetics to Estes Lauder Companies Inc in 1995. However, she retained the creative control of the company. She retired from her position in her company in 2016.
Since then, she became a certified health coach. She also launched other wellness-inspired beauty products. Moreover, she became a widely acclaimed author in the world of beauty and wellness. Indeed, she authored at least nine books, and among them we have the book I'm reviewing today.
On a more personal note, she is married and is the mother of three children. You can tell she's been very busy!
What will you find in Bobbi Brown Makeup Manual?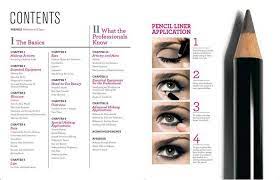 The Bobbi Brown Makeup Manual is divided into two main parts: the makeup basics and the professional makeup. Indeed, Bobbi Brown wanted to address two different types of audience. So, the issues she tackles are really different according to that, but it's still very interesting!
Part 1: The makeup basics
This first part is the longest, and includes 8 chapters.
Chapter 1: Foreword
In this chapter, Bobbi Brown explains why she wrote this book, and which audience she's targeting.
Chapter 2: Tools
Bobbi Brown introduces the tools you'll need to apply your make-up properly. For instance, she explains how you can create your own make-up kits. Also, she tells where you can buy your make-up tools, and how you can maintain and keep them.
Chapter 3: Skin
Proper make-up starts with radiant skin! In this chapter, Bobbi Brown goes deeper in your skincare. For example, she gives some healthy living advice, as they are beneficial to have a beautiful skin. Moreover, she gives indications about the best skincare products according to your skin type.
Chapter 4: Face
Do you want to know how you can have flawless skin while applying make-up? Then, you'll be served in this chapter! Indeed, Bobbi Brown explains how to prepare your skin properly. Also, she also address how to apply the following products on your face:
concealer
foundation
powder
blush
bronzers
Moreover, in a diverse perspective, Bobbi Brown explains how to address many make-up issues according to your skin tone. According to our ethnic background, we all have different issues to work on our complexion. Consequently, Bobbi Brown tells you how to get a dewy complexion, despite having irregularities and blemishes.
Chapter 5: Lips
In this chapter, Bobbi Brown introduces the different lipstick colors adapted to each natural lip color. Also, she teaches how to apply lipstick and gloss properly.
Chapter 6: Eyes
In this very interesting chapter, Bobbi Brown addresses several issues related to eye make-up, such as the definition of eyebrows. Also, she shows how to apply eyeshadows, eye-liners, and mascara.
Chapter 7: Apply a perfect make-up in 10 steps
In this chapter, Bobbi Brown shows a set-by-step tutorial to apply your make-up. If you're a fan of natural make-up applied with good taste, this chapter is for you!
Chapter 8: Special make-up
Bobbi Brown shows some make-up specificities, such as:
diverse beauty (how to apply make-up depending on your skin tone: Black, Red-haired, white, Asian, Middle-Eastern, Latina)
bridal make-up
special occasions (e.g. special events, galas…)
teenage make-up (spoiler: only natural make-up is allowed)
make-up advice for mature women
pregnant women can also wear make-up!
how to apply make-up to cope with bad days (e.g. not enough sleep, visible pimples…)
Part 2: Professional make-up
After presenting the make-up basics, Bobbi Brown tackles the professional world. Indeed, this part is dedicated to those who want to explore their creative side. Therefore, if you want to become professional make-up artists, you'll receive tons of advice here. However, this part is shorter than the first part and only includes 4 chapters.
Chapter 9: Professional make-up
Bobbi Brown gives you all the tips you need to become a professional make-up artist. In particular, she present the trade and how to start in this business. Moreover, she provides useful advice to succeed, to promote your work, and to have long-lasting clients.
Chapter 10: Essential toolkit for professional make-up artists
In this chapter, Bobbi Brown gives advice on the ideal toolkit for professional make-up artists. Spoiler: your toolkit is a little bit extended…but it's normal, you're a professional!
Chapter 11: Advanced make-up techniques
Bobbi Brown introduces different types of make-up, according to the work you'll do. Indeed, she presents how to apply make-up on your clients if they work for:
photography (models)
magazines (models)
TV and cinema (actors, TV anchors)
runway (models)
celebrities (special occasions like the Academy Awards, for instance)
Chapter 12: History of make-up and its legends
In this final chapter, Bobbi Brown tells the whole history of make-up from the Ancient Times to the current times. Moreover, she introduces some make-up legends who contributed to the advancement of make-up techniques we know today.
For instance, she talks about Max Factor, Mary Kay Ash, or Laura Mercier. However, there are so many make-up legends that I won't name them all. You'll have to buy the book!
Pros and cons of the Bobbi Brown Makeup Manual
Pros
Insists on skincare and healthy living
Promotes natural and tasteful make-up for all women, whatever their age
Extensive step-by-step tutorials for day and night make-up
Adapted to women of diverse ethnic backgrounds: Caucasian, Black, Latinas, Middle Eastern women…
Special make-up advice you can just "copy and paste" on your own face
Excellent mentoring for future professional make-up artists
Great deal of pictures as examples of professional make-up, with comments on potential mistakes
Extensive history of make-up and the biographies of different make-up legends
Cons
It's not a real con, but I need to address it. Indeed, while I was reading this book, I had the feeling that I was reading two books in one. For instance, there's one book for make-up newbies who want to know how to apply make-up. On the other hand, there's a book dedicated to future and current make-up artists.
Therefore, it can create a dichotomy between those who aren't interested in professional make-up. And you'll have those who already know how to apply make-up and who'll find the first part completely uninteresting.
But I guess that it's the result of the fact that she wanted to address to a rather large audience in her book. It's both a quality and shortcoming to me. In my opinion, the book's efforts are commendable but she should have written two books. But that's just my opinion…
My personal Bobbi Brown Makeup Manual Review: 10/10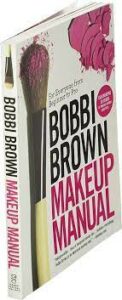 Personally, I've always admired Bobbi Brown's body of work. Indeed, I like the fact that she has always advocated natural make-up for every woman. These days, women are wearing tons of make-up and I find it absolutely awful.
This book highlights the fact that make-up is here to enhance a woman's beauty and natural features. Also, it shows you how to succeed as a professional make-up artist and how to make money with your passion.
In a few words, my Bobbi Brown Makeup Manual review is an entirely positive one. Indeed, I believe that every woman must have this book and practice the advice she provides.
Remember, you won't be skilled in applying make-up in one night. Indeed, practice makes perfect! And Bobbi Brown Makeup Manual is a useful tool that you must use, or pass around to your sisters, your daughters, your nieces, or your cousins.
We should make elegant and tasteful make-up great again!
Where can you buy the Bobbi Brown Makeup Manual?
You can buy this wonderful book in every bookstore, but it's also available on Amazon:
Well, that's it for today! What do you think of my Bobbi Brown Makeup Manual review? Have you read the book? Feel free to share your point of view in the comments below!
Take care!
Click here to receive my free ebook on the 9 time-tested secrets to eternal youth.